Recipes
Piggy Tartine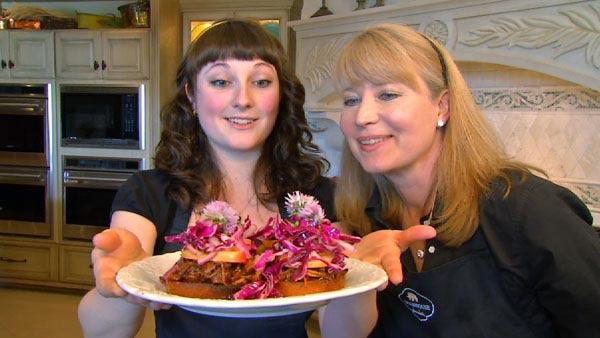 Difficulty: Easy
Time:
Provided by: Tracy and Christina Anderson
4 pieces bacon, cut into batons (little pieces)
2 lbs. boneless pork butt (shoulder) cut into 2-inch slices (not cubes, long pieces 2 inches in width)
1 onion, cut in half and sliced
2 cloves garlic, peeled and minced
1/2 cup dry white wine
1 teaspoon dry mustard
1/4 cup light molasses
2 cups chicken broth
1 1/2 oz. dark chocolate, chopped
1/2 teaspoon salt
Directions
Preheat the oven to 325 degrees. In a Dutch oven just big enough to hold the piggy, sauté the bacon pieces over medium heat until done. Remove the bacon and set aside. Increase the heat to high and brown the pork on all sides. Be very, very careful here, it has a tendency to pop hot grease at you. I have learned to jump back very quickly. (It doesn't always do that, but fore-warned is fore-armed!) Remove the pork to a dish and have it keep the bacon company while it's waiting. Now, reduce the heat to lowish and throw the onions in (not literally, unless you have really good aim). Sauté the onions until they are soft, then add the wine and reduce by about half. Add the remaining ingredients, stir to combine, then add the pork and bacon back in. If the pork is not completely submerged, add more chicken stock to cover. Bring to a simmer, then put in the oven for two hours. After two hours, remove the pork to an oven proof dish and put it back in the oven while you reduce the sauce. Reduce the sauce until it is syrupy - like molasses. Put the pork back in the sauce and pull it to pieces with a pair of tongs and a fork. Keep warm until you are ready to go. (This re-heats really well, by the way, covered in a slow oven, so you can make it a couple of days ahead if you want to.)
Red Cabbage Slaw:
1/2 head red cabbage, thinly sliced
1/2 red onion, peeled, cut in half and thinly sliced
1/4 cup cider vinegar
1/2 teaspoon fine sea salt
1/4 teaspoon sugar
lots of freshly ground black pepper
1/2 cup canola oil
Put the cabbage and onions in a mixing bowl. Make a dressing by whisking together the remaining ingredients in order. Toss the cabbage in the dressing and set aside (can be made a couple of days ahead and refrigerated).
Two apples, thinly sliced.
Six good, thick slices French bread, buttered and toasted on a grill or under the broiler (or just toasted without the butter if you think that will make a difference to your bottom line)
Pile the hot, delicious piggy on each piece of toast, place a layer of sliced apple over the pork, then put a bit of cabbage slaw over the apples. I like to garnish with chopped chives to add a bit of drama. Since this is a TARTINE, one should eat this with a knife and fork, but if you wish to just pick it up and go for it, I won't tell.
Guest Chefs:
TRACY WOOD ANDERSON
Tracy Wood Anderson began her cooking career at the age of five when her parents came home to a lemon meringue pie and a spooked babysitter pointing to Tracy and saying "she just did it, I didn't have anything to do with it." Tracy and food have always gone together, but it being part of her nature, she did not immediately consider it as a career and attended Scripps College and earned a B.A., majoring in studio art. Not particularly wanting to throw herself into the spinning fan blades of the art world, and finding out that not every girl out there could cook, she finally considered food as a vocation. After a short stint at the restaurant in the Calistoga Inn to make sure this was the right direction, she enrolled in San Francisco's California Culinary Academy. After a 16 month program in the Culinary Arts, she graduated with top honors and discovered that pastry was her specialty of choice.
A short period in the pastry department at Domaine Chandon was followed by a much longer period at her husband John Anderson's family winery, S. Anderson Vineyard. There, Tracy was chef for their winery events ranging from 8 to 500 people, learned the art of blending their sparkling and still wines as well as performing the myriad of other jobs that crop up at a family winery. Balancing this with raising a family was her life's pursuit of over fifteen years.
2002 marked a change for Tracy when the focus of her life switched from wine to chocolate. She spent two years at home and traveling in Belgium and France, tasting, taking courses in chocolate and confectionary, and generally just up to her elbows in chocolate developing her own creations. The combination of her art background, her sensitivity to flavors and her love of food and sharing the fruit of her labor culminates in what is now Woodhouse Chocolate.
CHRISTINA ANDERSON
Christina Anderson earned a degree in studio art from Scripps College. She is currently finishing up at the California Culinary Academy while working full-time at Prospect in San Francisco. Passionate about cooking, Christina also loves printmaking and photography.