Recipes
Pear Ginger Jam Beggars Purses with Caramel Sauce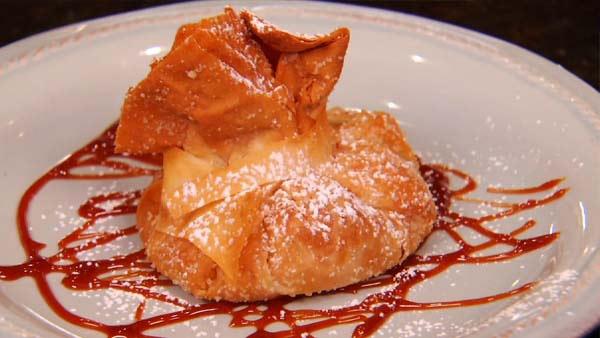 3 sheets phyllo dough
1 jar pear ginger jam
recipe in "Art of Preserving"
Crumbs of 5-6 Gingersnap cookies
1/4 teaspoon ground Cardamom
1 teaspoon orange zest
4 oz Ricotta cheese or 3/4 cup
3 tablespoon sugar
4 tablespoons melted butter
Directions
In a small bowl, combine 8 oz tub of ricotta cheese, sugar, orange zest and cardamom. Stir gently; don't over mix or mascarpone will be over beaten and grainy. (Can be done 1-2 hours ahead.)
In a small sauce pan brown the butter. Melt the butter over medium heat and watch for small brown flecks. Remove from heat and scrape brown flecks off pan with a fork. Set aside.
Remove phyllo from freezer 8 hours or overnight before you're ready to use it. Remove from refrigerator 1 hour before use. Have all components ready before you take out the phyllo. Gently remove 1 sheet from package. Keep remaining dough flat covered with plastic wrap or parchment paper. Lay a damp cloth, (wet, then wring out) over the parchment or plastic wrap. Gently remove 1 sheet of phyllo and lay down on a flat surface. Brush lightly with melted butter, then sprinkle with 1 tablespoon sugar. Lay another layer of phyllo on top of the layer with butter and sugar and repeat 2 more times. Reroll, reseal and refreeze remaining phyllo dough.
Cut phyllo into 51/2 inch x 6/12 inch squares with a pizza cutter or sharp knife to make 6 rectangles. In the center of the phyllo rectangle sprinkle ˝ teaspoon gingersnap crumbs, spoon 1 tablespoon cheese mixture on top of the crumbs than 1 tablespoon pear conserve on the cheese mixture. Bring up corners of phyllo around the filling and gather the dough at the point just above the filling to make a purse. Set on baking sheet and repeat process with 4 more sheets of phyllo.
Bake at 350 degrees for 10- 15 minutes or until golden brown; remove from the oven, let sit for 5-10 minutes. Drizzle each plate with caramel sauce and place 1 purse on top.
Caramel Sauce:

1 cup granulated sugar
1/4 cup water
2 tablespoons unsalted butter, softened
1/2 cup heavy cream at room temperature

Bring sugar and water to a boil in a 10-inch heavy skillet, stirring until sugar has dissolved, then wash down any sugar crystals from side of skillet with a pastry brush dipped in cold water. Boil, without stirring, swirling pan occasionally, until dark amber, 7 to 8 minutes. Cool 2 minutes, then whisk in butter, cream. Heat over medium heat to blend ingredients and reduce slightly. Set aside. Caramel sauce will keep for 2 weeks refrigerated.
Guest: About Rebecca Courchesne, author of The Art of Preserving and owner of Frog Hollow Farms Becky Courchesne is native northern Californian, just like Farmer Al. Although she graduated from Linfield College with degrees in English and anthropology, cooking was always her first love. After moving back to the Bay Area, she began working in the kitchen at Alice Waters' Café Fanny and later became head pastry chef at Oliveto in Oakland. It was there, while Farmer Al was making his delivery rounds, that the pastry chef met the peach farmer. Becky moved to the farm in 1995 and in 2000, inspired by the abundance of delicious fruit all around her, she launched a line of now-famous organic conserves, marmalades, jelly and chutney all made with Frog Hollow Fruit grown right in her backyard. Farmer Al and Becky were married in 2003 and have two daughters Maddie and Millie with whom they share their love of the land and great food.