Recipes
Oven Fried Zucchini Sticks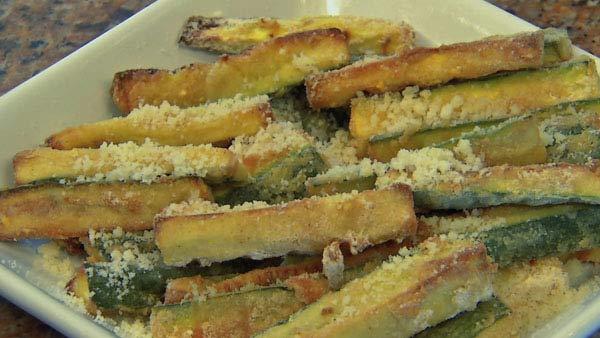 Servings: 4
Difficulty: Easy
Time:
Provided by: The Whole Family Cookbook, by Michelle Stern
Canola or olive oil cooking spray, (you can also use Canola or Olive oil)
1/2 cup whole-wheat flour
1/2 cup all-purpose flour
2 tablespoons cornmeal
1.5 teaspoon salt, plus more for sprinkling when they come out of the oven
1/2 teaspoon freshly ground pepper
1 1/2 lbs. zucchini , (about 3 medium)
1 whole egg, or 2 egg whites
Optional additions for the coating:, paprika, dried herbs, cayenne pepper
Directions
Preheat oven to 475 degrees.
Coat a large baking sheet with cooking spray. Or wipe the tray with a washcloth dipped in oil. Measure flour, cornmeal, salt and pepper.
Pour them into a zip top bag or a reusable plastic container with a lid. If you desire, you can add other flavorings to the coating, such as paprika, dried herbs or a dash of cayenne pepper.
Slice the zucchini in half, lengthwise.
Place the flat side on your cutting surface and cut 1/2 inch slices down the length of each zucchini.
If they are too long, cut the slices in half so they resemble French fries.
Crack the egg over a small bowl and fish out any stray shells. Beat it lightly.
Dip each piece of zucchini in the egg, holding the pieces over the bowl, to let the excess drip off.
Put the zucchini sticks into the bag or container and seal it closed.
Shake the container to coat the sticks in the cornmeal mixture.
Place a cooling rack over each baking sheet.
Arrange the pieces of zucchini in a single layer on the cooling rack so that the hot air can circulate all around the sticks as they bake.
Lightly spray the zucchini sticks with cooking spray. If you don't have any cooking spray, you can use a pastry brush to brush each piece with oil.
Bake on the center rack for 7 minutes.
Turn the zucchini pieces over and lightly coat any floury spots oil.
Continue to bake until golden and just tender, about 5-7 minutes more. Serve hot.
Sprinkle with salt right after they come out of the oven.
My Bio...
Michelle Stern is the author of The Whole Family Cookbook and owns What's Cooking, a certified green company that offers cooking classes for children in the San Francisco Bay Area and family kitchen coaching for parents. Not only do her classes teach kids and their families to enjoy delicious homemade foods, but they also motivate families to use food and cooking to help those less fortunate. Michelle was invited to the White House, where she attended the launch of Michelle Obama's Chefs Move to Schools initiative. She has appeared on ABC's View From the Bay 7 and her blog won the 2010 Parent & Child Green Blog award from Scholastic. When she isn't in the kitchen or at the computer, she's the head chauffeur for her two children, dog walker to her two mutts, and chicken feeder for her backyard flock.
Michelle Stern
Owner, What's Cooking with Kids
Author, The Whole Family Cookbook
Community Outreach, DooF: Making Good Food Fun for Kids
Chair, International Association of Culinary Professionals, Kids in the Kitchen Section