Recipes
Orange Chocolate Angel Food Cake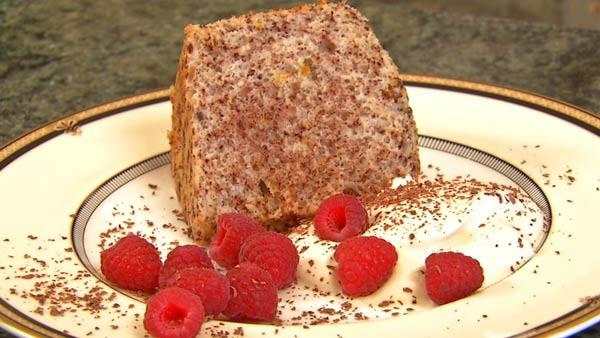 Servings: 6
Difficulty: Easy
Time:
Provided by: Nell Newman
I cup all purpose flour
1 1/4 cup sugar
12 egg whites
1/4 teaspoon salt
1 teaspoon lemon, or orange juice
3 teaspoons vanilla
Grated rind from one large orange
2 Newman's Own Organics dark orange chocolate bars grated on the largest holes of a four sided cheese grater
1 pint whipping cream
1/4 to 1/2 cup maple syrup
2 teaspoons vanilla
Directions
Preheat oven to 350 degrees.
Separate eggs by cracking egg into hand and allowing the whites to run through your fingers. Put egg whites in large bowl and allow to come to room temperature.
Sift 1 cup flour several times before measuring. Then sift one cup flour with ¼ cup sugar. Sifting on to a piece of wax paper makes it easier to pour it back into the sifter again.
With a hand held mixer, beat egg whites until frothy. Then add lemon or orange juice and continue to beat until soft peaks form. Sprinkle sugar a bit at a time until done while continuing to beat on low speed.
Then sift 1/4 of the flour/sugar mixture over the egg whites, along with the vanilla, and orange rind, and use your hand with fingers spread to carefully incorporate the ingredients. Alternate grated chocolate, and flour/sugar mixture, saving about 1/2 a cup of chocolate. Make sure to fold in gently to avoid reducing the volume of the whites.
Pour into a clean, dry, angel food cake pan, with a removable bottom. Bake for approximately 45/50 minutes until lightly browned. Knife inserted should come out clean. Remove from oven and invert to cool for about 45 minutes or warm to the touch. Run knife around edges and tube to loosen, then invert over plate.
Whip cream, sweetening with maple syrup to taste. Add vanilla last and serve with fresh berries, and a sprinkle of the extra grated chocolate.
Nell Newman launched Newman's Own Organics: The Second Generation with business partner Peter Meehan in 1993. Great tasting products that happen to be organic is the company's motto. She is the President of the company, which started as a division of Newman's Own and became independent in 2001. Nell's responsibilities are in the areas of product development and public relations.
The daughter of actors Paul Newman and Joanne Woodward, Nell had an early introduction to natural foods at their rural Connecticut home. The family had a small apple orchard and a few chickens. Nell learned to cook from her mother and how to catch fish from her father. While in college, she continued to experiment in the kitchen, and is still the designated chef when home for family holiday dinners.
Nell attended the College of the Atlantic in Bar Harbor, Maine, graduating with a B.S. in human ecology. She worked briefly at the Environmental Defense Fund in New York, but, preferring a more rural environment, moved to Northern California. There she became the Executive Director of the Ventana Wilderness Sanctuary, which was working to reestablish the bald eagle in central California. After two years, she left to become the Development Director for the Santa Cruz Predatory Bird Research Group, the non profit responsible for the captive breeding and restoration of the peregrine falcon in California.
Nell's commitment to organic foods and sustainable agriculture led her to convince her father to let her establish an organic division of Newman's Own. She won him over by creating a completely organic Thanksgiving dinner, and then suggesting organic food products for the new Newman's Own Organics' line. "All of Newman's Own Organics' products are ones that Dad enjoyed, so we chose ones that he really loved," states Nell. She credits her parents, too, with teaching her by example to be socially responsible, politically involved, and philanthropic.
An ardent supporter of sustainable agriculture, Nell has participated as a featured speaker and as a panel member talking about her commitment to organic products and producing snacks that appeal to the general public. "By utilizing organic ingredients, we're supporting the environment through the growth of organic agriculture," says Nell.
Nell has served on the Peregrine Fund board in Boise, Idaho and currently serves as a board member of EcoTrust, Wholesome Wave Foundation and Allergy Kids.
Nell's thoughts on how to make a difference are highlighted in her book, The Newman's Own Organics Guide to a Good Life: Simple Measures That Benefit You and the Place You Live (Villard, 2003), written with science writer Joseph D'Agnese. It is filled with realistic, practical advice on why living a more environmentally conscious life helps us all.
For more information visit Newmansownorganics.com.