Recipes
Orange Chocolate Angel Food Cake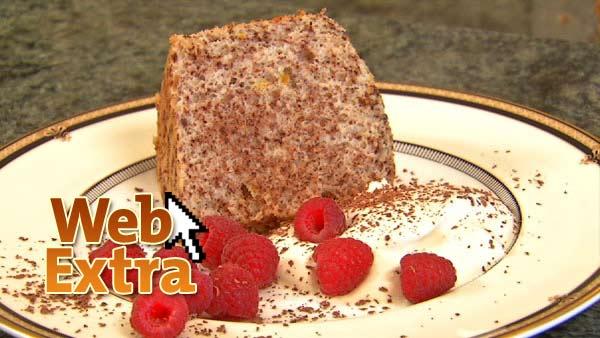 Servings: 4 to 6
Difficulty: Easy
Time:
Provided by: Nell Newman
I cup all purpose flour
1 1/4 cup sugar
12 egg whites
1/4 teaspoon salt
1 teaspoon lemon, or orange juice
3 teaspoons vanilla
Grated rind from one large orange
2 Newman's Own Organics dark orange chocolate bars grated on the largest holes of a four sided cheese grater
1 pint whipping cream
1/4 to 1/2 cup maple syrup
2 teaspoons vanilla
Directions
Preheat oven to 350 degrees.
Separate eggs by cracking egg into hand and allowing the whites to run through your fingers. Put egg whites in large bowl and allow to come to room temperature.
Sift 1 cup flour several times before measuring. Then sift one cup flour with ¼ cup sugar. Sifting on to a piece of wax paper makes it easier to pour it back into the sifter again.
With a hand held mixer, beat egg whites until frothy. Then add lemon or orange juice and continue to beat until soft peaks form. Sprinkle sugar a bit at a time until done while continuing to beat on low speed.
Then sift 1/4 of the flour/sugar mixture over the egg whites, along with the vanilla, and orange rind, and use your hand with fingers spread to carefully incorporate the ingredients. Alternate grated chocolate, and flour/sugar mixture, saving about 1/2 a cup of chocolate. Make sure to fold in gently to avoid reducing the volume of the whites.
Pour into a clean, dry, angel food cake pan, with a removable bottom. Bake for approximately 45/50 minutes until lightly browned. Knife inserted should come out clean. Remove from oven and invert to cool for about 45 minutes or warm to the touch. Run knife around edges and tube to loosen, then invert over plate.
Whip cream, sweetening with maple syrup to taste. Add vanilla last and serve with fresh berries, and a sprinkle of the extra grated chocolate.