Recipes
Onion, Country Sausage and Apple Stuffing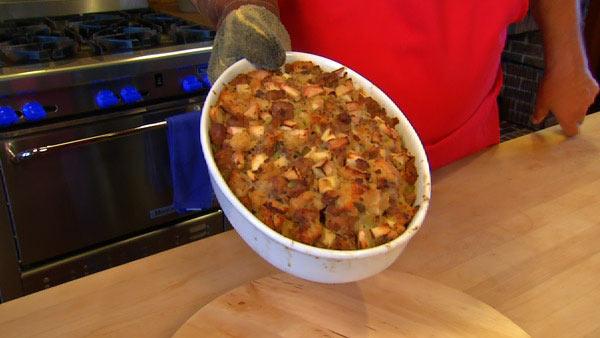 Servings: 12-15
Difficulty: Easy
Time:
Provided by: Bruce Aidells
1 tablespoons olive oil
2 pounds Fresh Country Sausage
2 cups chopped onions
1 cup chopped celery
1 tablespoon dried sage
1/4 cup dry white wine or apple cider
10 cups dried bread cubes
4 cups peeled, cored, and diced green apples (such as Granny Smith)
3 cups or more chicken stock, preferably homemade
Salt and freshly ground black pepper to taste
Directions
Preheat the oven to 350 degrees, if baking the stuffing in a casserole.
Heat the oil in a large, heavy skillet or Dutch oven over medium heat. Add the sausage and fry for 3 minutes, breaking it up as it cooks. Add the onions, celery, sage, and wine or cider. Cover and cook until the vegetables are soft, stirring occasionally, about 10 minutes.
In a large bowl, mix the sausage-vegetable mixture, bread cubes, and apples. Moisten with 3 cups of stock until the mixture is moist enough to hold together when molded in a large spoon, but not sopping wet. Use more stock if needed. Taste for salt and pepper.
Bake the stuffing in an oiled 3- to 4-quart casserole. Cover the casserole and bake for 45 minutes. Serve warm.