Recipes
Lamb Chops with Spicy Thai Peanut Sauce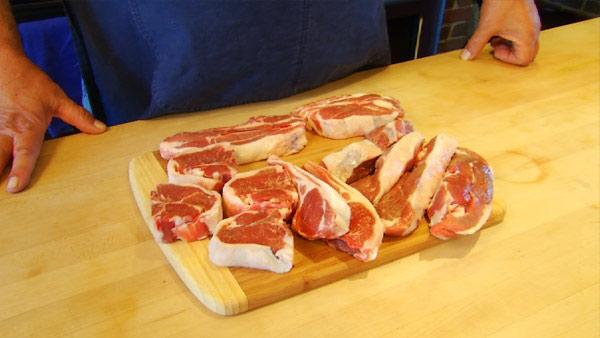 Servings: 4
Difficulty: Easy
Time:
Provided by: Bruce Aidells
2 cloves garlic
1/3 cup cilantro leaves
1/3 cup 100% natural unsalted crunchy peanut butter
1 tbsp. Thai Green Curry Paste (Trader Joe's works well)
1 tbsp. fresh lime juice
2 tbsp. ketchup
1 tbsp. Thai or Vietnamese fish sauce
1 tbsp. soy sauce
1 tsp. sugar
2 tbsp. peanut oil
8 3/4-inch to 1 inch thick loin lamb chops (T-bone chops, about 1 1/2 to 2 pounds)
Directions
1. Set up a food processor with a small bowl. With the motor running, drop in the garlic. Stop and add the cilantro. Pulse until chopped. Add the remaining ingredients and pulse to form a soft paste. Smear some of the paste over both sides of each chop. Scrape the rest of the paste into a small sauce pan.
2. Set up a gas or charcoal grill to produce medium high heat. Grill chops directly over the heat, about 3 to 4 minutes per side or until they reach 125 degrees to 130 degrees Fahrenheit for medium rare doneness. Transfer to a platter.
3. Gently heat the reserved peanut paste and stir in enough water to make the sauce thick but pourable. Spoon the sauce over the lamb chops and serve at once.
Note: Alternatively, you can broil the chops for 4 to 5 minutes per side.