Recipes
Lamb Chops Tagine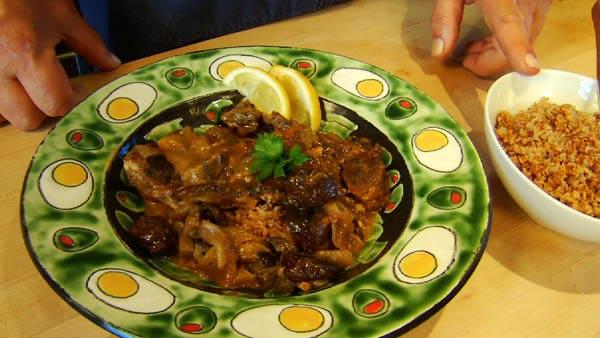 Servings: 4
Difficulty: Easy
Time:
Provided by: Bruce Aidells
1 tsp. kosher salt
1/2 tsp. freshly ground black pepper
2 tsp. mild Hungarian paprika
1/2 tsp. ground ginger
1/2 tsp. ground cumin
1/4 tsp. ground allspice
1/2 tsp. ground coriander
4 large lamb shoulder chop (About 2-3 pounds)
5 tablespoons olive oil
2 medium onions, each cut into 6 wedges
1/2 cup pitted prunes
6 cloves garlic, sliced
2 cups chicken stock
Juice of one lemon, or more, to taste
2 cups eggplant, cut into 2 inch diced cubes
Salt, and freshly ground black pepper
Directions
1. Combine salt, pepper, and remaining spices in a small bowl. Generously sprinkle chops all over with the spice mixture. Save any excess to use later.
2. Heat 1 tablespoon of olive oil in a large heavy frying pan over medium heat and lay in the chops. If too crowded cook in 2 batches. Brown the chops for 3-4 minutes until nicely browned. Turn over and cook the other side for 3-4 minutes until brown and set aside.
3. Place a large lidded pot or Dutch oven on the stove. Scatter onion wedges over the bottom, and then scatter the prunes and garlic. Sprinkle remaining spice mixture over the vegetable/ fruit mixture then pour in stock and lemon juice. Lay chops on top and bring to a boil. Reduce to a simmer. Cover and cook for about 45 minutes. While lamb is cooking preheat oven to 400 degrees Fahrenheit. In a bowl, toss eggplant, remaining olive oil and a sprinkle of salt. Spread on a sheet pan and roast for 10-15 minutes or until the eggplant is soft. Scatter the eggplant over the mixture and cook 15 minutes more. Taste a sample of the chop to test if it is tender. If not, cover and cook 10 minutes more or until done.
4. Remove lamb chop, degrease the juices and season with more salt, pepper, and lemon to taste. Arrange meat on a warm platter and spoon juices over the dish. Serve with bulgur pilaf.