Recipes
Irish Corned Beef and Vegetables with Horseradish Cream and Guiness Mustard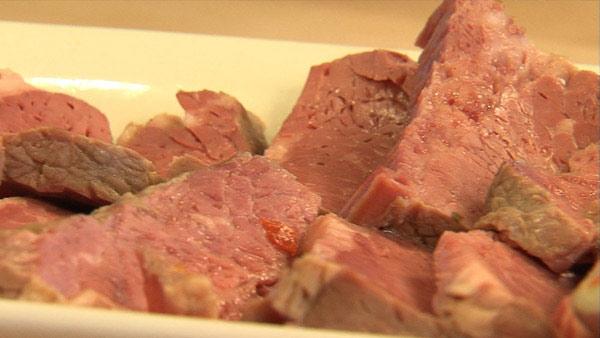 Servings: 6 with generous leftovers
Difficulty: Easy
Time:
Provided by: Bruce Aidells
1 whole corned beef brisket (6 to 8 pounds), homemade or store bought
1 12-ounce bottle Guiness or other Stout or Porter
water to cover
1 tablespoon coriander seeds
4 bay leaves
1 dried chile pepper
2 allspice berries
8 medium boiling potatoes (unreeled)
4 medium onions, peeled and halved through the roots
6 small turnips, trimmed and peeled or 2 medium rutabagas, peeled and quartered
2 parsnips, peeled and cut into 2-inch chunks
6 medium carrots, peeled and left whole
1 2-pound head of cabbage, cored and quartered
Directions
1. Place corned beef in a large pot or Dutch oven. Pour in beer and water so meat is covered by 1-2 inches. Add coriander seeds, bay leaves, chile pepper and allspice. Bring to a boil then reduce to a simmer and cover the pot. Cook for 2 hours then check the beef by tasting or inserting a knife. If it shows no resistance, it is tender. If not, continue to cook until tender. Remove beef.
2. Add vegetables and cook at a slow boil for 20 minutes or until the cabbage is done and the potatoes and root vegetables are tender. Add back beef to re-warm for 2-3 minutes. Cut meat across the grain into 1/4-inch slices and arrange on a platter with the vegetables. Serve with Horseradish Cream and Guinness Mustard Sauce.
Note: I like using a little dark beer to boil my corned beef, which provides a pleasant malty flavor. Use a dark beer such as Guinness or other Stout or for a hint of sweetness, try a Porter. Make sure to have lots of leftovers to make your favorite hash recipe and Grilled Corned Beef and Fontina Cheese Sandwiches. (See recipe in Segment #4) And don't throw the stock away. Use it to make a cabbage or other winter vegetable soup.