Recipes
Herb de Province Salad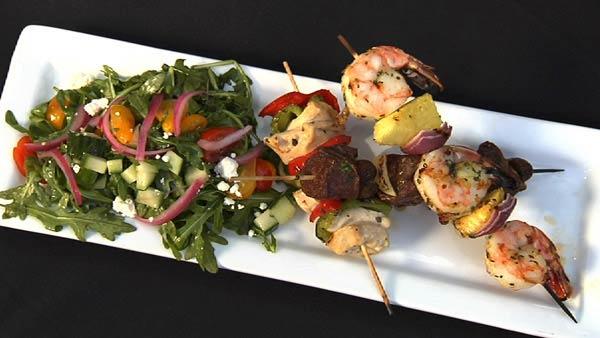 Servings: 4
Difficulty: Easy
Time:
Provided by: Chef Dakota Weiss
Champagne or Rice Vinegar 2 cups
Whole Grain Mustard 3 tablespoons
Garlic 6 cloves
Herb de Province 3 tablespoons
Blended Oil 4 cups
Salt To taste
Directions
Whisk all ingredients in the bowl except for the oils. Slowly whisk in the blended oil and season to taste.
Shish Kabobs
Beef: marinate the beef with crushed garlic, olive oil and smoked paprika -- skewer it with fresh mushrooms and whole garlic cloves
Shrimp: marinate the shrimp with lime zest, crushed garlic, chopped chives and olive oil -- skewer with fresh pineapple
Chicken: marinate with rosemary, Dijon mustard, crushed garlic and olive oil -- skewer with peppers and red onions
Method:
2 cups fresh arugula
1 orange (peeled and diced)
1/4 cup sliced red onion (pickled with ˝ juice from a lime, pinch of salt)
1/4 cup crumbled feta
1/4 cup baby tomatoes
1/4 cup cucumbers Persian cucumbers (small diced)
Guest Chef: Chef Dakota Weiss
Born and raised in Lancaster, California, Weiss' love for cooking began at a young age and credits her mother, suspense novelist Charmaine Coimbria, for introducing her to the kitchen. She spent her mornings picking fresh produce from her mother's organic orchard and spending time with her in the kitchen before moving to Santa Fe, New Mexico when she was 12. While taking classes at New Mexico State University, Weiss realized she had no passion for the subjects she was taking and decided to pursue what she loves to do most, cooking. She attended and graduated at the top her class from Scottsdale Culinary Institute in 1997. She took up employment at Coyote Café under the direction of Executive Chef Jeff Drew where she spent three years cultivating her craft. Filled with ambition, Weiss moved to Atlanta, Georgia to study under the strict and sophisticated guidelines of Executive Chef Bruno Menard at the Ritz-Carlton in Buckhead. This was Weiss' first experience working with sophisticated ingredients and upscale menus. She credits Chef Menard for her passion as he taught her to use all of her senses including her eyes, nose and heart and not just her taste buds when developing a menu. Here, she made a name for herself and perfected her use of fresh ingredients and creating beautifully plated dishes. Soon after, she returned to Southern California to become the Executive Chef at Jer-ne at Ritz-Carlton, Marina Del Rey and continued her quest for knowledge to Sunset Tower Hotel's Tower Bar. The free-spirited Weiss constantly looked for more challenges and moved to Philadelphia to help open Stephen Starr's Parc Restaurant. Although she was constantly on the move, her heart always belonged to Southern California. Her persistence to return to her hometown and extraordinary talent helped her become Executive Chef at Hotel Shangri-La in Santa Monica, California in 2009.
For more than 12 years, French-trained Weiss has showcased her talent for creating global cuisine that utilizes locally grown, organic ingredients. She has an addiction to scouring the Farmer's Market looking for the best and the freshest ingredients. She believes in bold tastes, but is committed to unique, yet simple and light dishes. As the Executive Chef at W Los Angeles -- Westwood, Chef Weiss oversees all kitchen operations for the hotel including renowned restaurants, NINETHIRTY and The Backyard, managed by Choice Hospitality Group.
For more information visit www.ninethirtyw.com.