Recipes
Hearty German Goulash Soup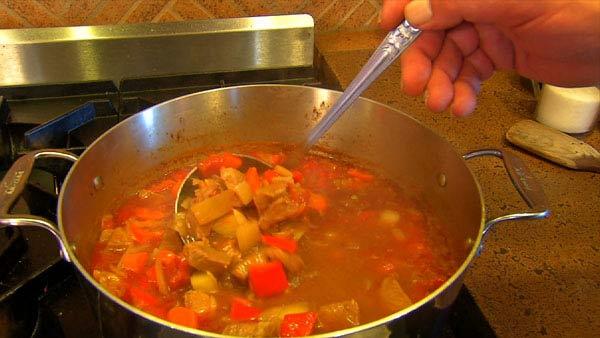 Servings: 6 to 8
Difficulty: Easy
Time:
Provided by: Bruce Aidells
2 tablespoons lard or olive oil
1 1/2 cups chopped onion
2 cloves of garlic, minced
2 to 3 tablespoons sweet Hungarian paprika
2 teaspoons hot Hungarian paprika (optional)
1 1/4 pounds Boston butt or boneless country ribs, cut into 1-inch cubes
Kosher salt and freshly ground black pepper
2 quarts Dark Pork Stock or homemade chicken stock or canned low-sodium chicken broth
2 teaspoons caraway seeds
2 teaspoons fresh marjoram or 1 teaspoon dried
2 cups peeled diced Yukon Gold or other high-starch potatoes
1 cup diced carrots
3/4 cup, or 1 whole large seeded and de-ribbed, diced red bell pepper
3 tomatoes, peeled, seeded and diced, or 2/3 cups canned tomatoes, drained and chopped
Kosher salt and freshly ground black pepper
Sour cream for garnish
Directions
Heat the lard or oil in a Dutch oven or large soup pot over medium heat. Add the onion and garlic and cook until softened and golden brown, stirring occasionally, about 20 minutes. Add the sweet paprika and optional hot paprika, and stir until onions are well coated. Stir in the meat, a little salt and a few grinds of pepper. Add 1/2 cup of the stock, increase the heat to medium-high and cook until the liquid is almost evaporated. Add the remaining stock and the caraway seeds. Bring to a boil, decrease heat to maintain a simmer and cook, covered, for 1 hour or until the meat is almost tender. Skim and discard the fat. Add the marjoram, potatoes, diced carrots, red peppers and tomatoes. Cook the soup for 20 minutes or more until the potatoes are tender. Season to taste with salt, pepper, and paprika.
To serve, ladle into warmed soup bowls and garnish with a dollop of sour cream.
I first encountered goulash soup, not in Hungary, but in Germany when I was a college student doing Europe under serious budgetary constraints. In order to stay within my allotted $5 a day (this was 40 years ago), I ate many meals in gasthofs (simple peasant restaurants) and student cafeterias. Goulash soup was ubiquitous on the menus and both cheap and filling, although I never could figure out from which species of animal the chunks of diced meat came from. Later, when I learned to make this dish at home, both diced pork shoulder and/or beef chuck worked well and allowed me to make the soup regularly on my modest budget.