Recipes
Grilled Shrimp and Hearts of Palm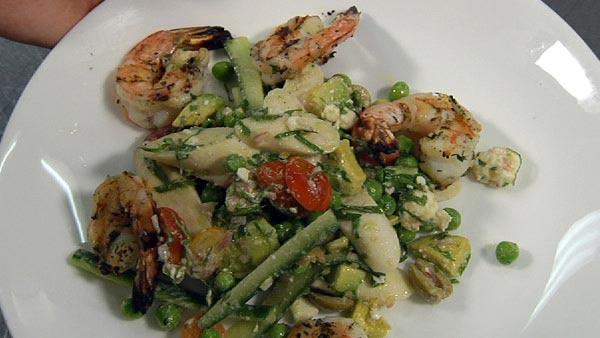 Servings: 4
Difficulty: Easy
Time:
Provided by: Executive Chef Jeff Armstrong
16 ea Shrimp (peeled and deveined)
2 cups Hearts of palm
1 cup English peas
1 ea Hothouse cucumbers
1 pt Cherry tomatoes
1/4 cup Green olives
1/2 cup Greek feta
Extra Virgin Olive Oil
Chopped Parlsey
Cup Red Wine Vinegar
2 Tbsp. Minced Shallots
2 g Minced Thai Chili
2 g Lemon Zest
2 Cups EVO
Directions
For the vinaigrette, mix the red wine vinegar, shallots, Thai chili and lemon zest. Slowly whisk in the olive oil.
Marinate shrimp in olive oil. Chopped the parsley before grilling. Cut hearts of palm on a bias and blanch for 1 minute and then shock in ice water. Clean and blanch peas for 30 seconds and then shock. Cut cucumbers in 1/4 inch sticks. Crumble feta cheese.
To assemble salad, grill shrimp until done. Toss all salad ingredients with the vinaigrette and divide evenly between four plates. Place four shrimp on each salad and serve.
Executive Chef Jeff Armstrong of Splashes restaurant at the Surf and Sand Resort in Laguna Beach.