Recipes
Gingerbread with Rootbeer Poached Pears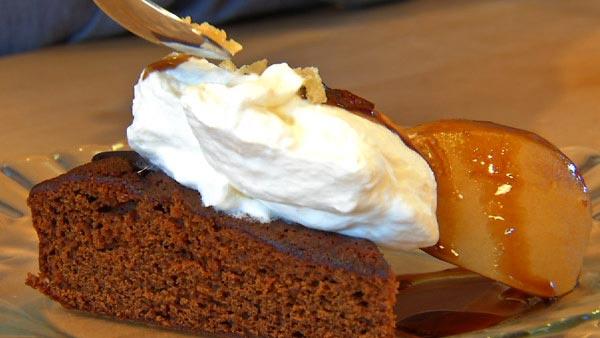 Servings: 6 to 8
Difficulty: Easy
Time:
Provided by: Bruce Aidells
1 T Butter
2 T sugar
1/4 C molasses
1 C pure olive oil or vegetable oil
3 eggs
3/4 t salt
1 t ground ginger
1 t ground cinnamon
2 C all-purpose flour
2 t baking soda
1 3/4 C dark brown sugar
1 C rootbeer
Directions
Preheat the oven to 350F. Grease the pan with butter and lightly dust with sugar. Stir together the molasses, oil and eggs with a fork in a small bowl until combined. In a larger bowl add the salt, spices, flour and baking soda and mix with a whisk to combine. Heat the sugar and rootbeer together to boiling. Add the molasses mixture to the flour and stir to combine. Add the hot rootbeer and quickly beat until combined. Pour into the prepared pan and bake 40-45 minutes or until a skewer comes out clean.
Rootbeer Poached Pears
2 bottles of Rootbeer (Thomas Kemper)
Zest from 1 lemon
2 bosc pears, peeled, halved, cored
In a small sauce pan, combine the above ingredients and gently poach over medium low heat for about 20 minutes until tender. Carefully remove the pears from the liquid with a slotted spoon and reduce the remaining liquid to a syrup. Cool and reserve.
Whipped Cream
1 C heavy whipping cream
1T powdered sugar
In a chilled bowl, beat the cream and sugar together until soft peaks form.
To serve; portion the gingerbread onto plates, place a pear against each slice and drizzle with the syrup. Serve with a generous dollop of whipped cream.
* The key to the success of this simple dessert is in using really good roobeer. Buy one of the small artisanal brands, not one of the big national brands. There are lots to choose from, I used Thomas Kemper. The pears with the syrup are very good all by themselves and if you are short on time, just serve them over vanilla ice cream.