Recipes
French Toast Bread Pudding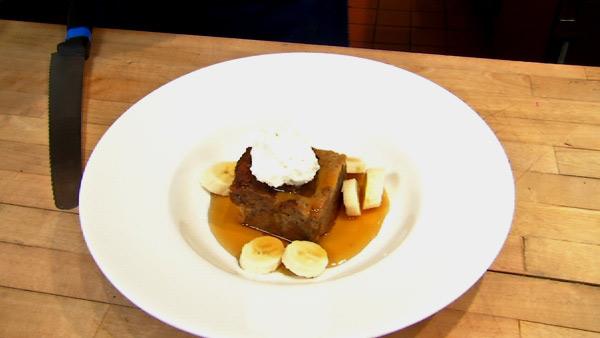 Servings: 6
Difficulty: Easy
Time:
Provided by: Pastry chef Lori Baker
12 ounces challah cut into 3/4-inch pieces
7 large egg
2 1/2 cups whole milk
1/2 cup sugar
2 teaspoons vanilla extract
3/4 teaspoon freshly grated nutmeg
1 teaspoon cinnamon
2 ripe bananas, sliced
1 cup maple syrup
1 tablespoon bourbon
pinch of salt
Pecan praline
Whipped cream
Directions
Butter 11x7x2-inch glass baking dish. Place bread in dish. Whisk eggs and next 5 ingredients in medium bowl to blend; pour over bread. Using spatula, lightly press down on bread to moisten completely. Cover with foil and chill overnight.
Preheat oven to 350 degrees and bake 30 minutes. Remove foil and continue to bake until pudding is puffed and golden brown, about 35 minutes longer.
While pudding is baking prepare the bananas. Bring the maple syrup, bourbon, and salt to a simmer on low heat. Add the bananas to the hot syrup and let steep until ready to serve.
When the bread pudding is ready cut into six squares and place in shallow bowls. Garnish each with some of the banana syrup, whipped cream, and crumbled pralines.
Serve immediately.
Guest Chef:
Lori Baker -- Pastry Chef of Baker & Banker
Lori Baker is the Pastry Chef/Owner of her debut restaurant, San Francisco's Baker & Banker. Opening the restaurant in Pacific Heights with her husband and Executive Chef Jeff Banker in December 2009, the two have been warmly welcomed to the neighborhood and quickly built a reputable profile in the Bay Area. In August 2010, Lori launched the bakery adjacent to the restaurant. Here she works to provide both sweet and savory items, as well as creating all the fresh breads and desserts for the restaurant.
Lori grew up in Cincinnati and went on to graduate from Johnson & Wales cooking school in Rhode Island. With an inherent love for baking reflected in her surname Baker, Lori moved to San Francisco to realize her dream of working as a Pastry Chef. She later went abroad to intern at L'Angolo Dolce in Lucca, Italy and extended her education at cooking school along with a stage at Hotel Metropole in Brussels, Belgium.
Returning to San Francisco, Lori went on to work as the pastry chef at EOS, Home, Slow Club, Gordon's House of Fine Eats and Bizou and pastry assistant at Postrio, Fifth Floor under Laurent Gras, and later Bix. It was here in 2000 that she met Jeff Banker, her future husband.
Following her work at these esteemed San Francisco restaurants, Lori went on to teach as a professor of pastry at The California Culinary Academy. During this time she and Jeff began to dream about opening their own restaurant and set out to find a space in which they could realize their vision. Finding the former location of Quince, Lori and Jeff discovered it was the perfect spot to execute both a restaurant and bakery to each further their culinary creations.
As Pastry Chef at Baker & Banker, Lori creates a selection of imaginative and decadent desserts. The dessert menu might include Bartlett Pear Crisp with Brown Sugar-Pecan Streusel and Amaretti Ice Cream; Hot Spiced Butterscotch with Homemade Vanilla Marshmallows, Olive Oil Fleur de Sel Biscotti and the famous XXX- Triple Dark Chocolate Layer Cake.
The bakery in turn produces fresh breads, scones and muffins, as well as cookies such as the brown-butter chocolate chip cookies and specialty cakes. Heading a team of xxx, Lori has created a bustling neighborhood bakery. Giving guests a truly personalized experience, Lori works at the bakery by day and then greets guests in the evening in the restaurant's dining room.