Recipes
Eggs in Purgatory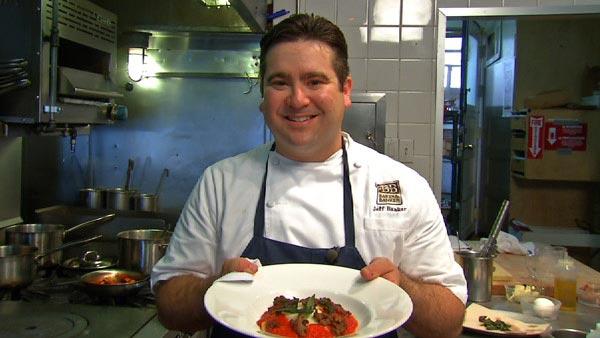 Servings: 4
Difficulty: Easy
Time:
Provided by: Executive Chef Jeff Banker
4 cups water
1 cup polenta
4 tbsp. butter
10 sage leaves
&frac12
cup grated Parmesan cheese
salt to taste
4 links Italian sausage, casings removed
3 tbsp. olive oil
1 tsp. chili flake
1 24 oz. jar high quality tomato sauce or homemade
8 eggs
Directions
Preheat oven to 400 degrees.
Bring the water and a pinch of salt to a boil in a medium saucepan over high heat. Slowly whisk in polenta and cover with a tight fitting lid. Reduce the burner to low and cook the polenta for one hour.
When polenta has finished cooking, brown the butter in a separate pan until golden. Carefully add the sage leaves and fry until crispy. Strain the brown butter into the polenta reserving sage leaves for garnish. Season the sage leaves with salt.
Whisk the Parmesan cheese and a little more salt into the polenta until well combined. Taste and adjust for seasoning. Cover polenta and keep warm.
Heat a large, ovenproof sauté pan until hot. Add 2 tablespoons olive oil. Add the sausage and begin to caramelize. Break the sausage up with a fork into smaller pieces and brown until fully cooked. Drain off fat and set sausage aside on a paper towel.
In the same pan add remaining olive oil and chili flake and cook for 20 seconds over medium heat. Add the tomato sauce and bring to a simmer. Crack eggs carefully into the tomato sauce. Season eggs lightly with salt. Place the pan in the over and bake for 4 to 5 minutes until the whites are set and yolks are still runny. Warm the sausage in the oven for 1 minute to reheat.
To present, place 1 cup polenta in the bottom of a bowl. Carefully place two eggs on top of the polenta. Surround with a little sauce and sprinkle on the cooked sausage. Garnish with the sage leaves and serve immediately.
Guest Chef: Jeff Banker
Jeff Banker -- Executive Chef of Baker & Banker
Since opening its doors in the Pacific Heights neighborhood of San Francisco in December of 2009, Baker and Banker has become a beloved neighborhood space and a destination dining spot. Executive Chef and owner, Jeff Banker, opened the restaurant with his wife Lori Baker. With over 30 years combined cooking experience, Chef Jeff Banker and Pastry Chef Lori Baker, both in their mid-thirties, share a common subtle complexity in their cooking elevated by attention to detail and technique.
Jeff, whose cooking exposure began in his mother's kitchen in his hometown of Orange County, became fascinated with the art at an early age. He quickly became his mother's sous chef, peeling and chopping while broadening his understanding by watching cooking shows at home. Later as a high school student, Jeff earned credit by partaking in a cooking program which allowed him to gain experience working at restaurants.
After graduating high school, Jeff proceeded to take a year off before starting at Cal Poly Polytechnic State University, where he majored in Hotel & Restaurant Management. After three years of industry experience, he moved to Newport Beach to work at Pascal then continued up the coastline to work at Patina in Los Angeles.
Wanting to go abroad, Jeff moved to Venezuela where he lived for a year and a half, before returning to San Francisco at age 23. Upon his return, Jeff began working at well known Bay area restaurants beginning with Postrio. Assured of his desire to be in the kitchen, Jeff continued as the sous chef at Acme Chophouse and Bix.
To strengthen his culinary skill set, Jeff staged at Lucas Carton, a three star restaurant in Paris while attending Le Cordon Bleu on a scholarship awarded by the IACP. In 2003, he returned once again to San Francisco as the Executive Chef at Home restaurant, where he and Lori continued their work together. The pair learned an immense amount while being involved with the restaurant for three years, during which time Home opened their second restaurant on Union Street. Following his experience in these prestigious restaurants, Jeff spent time as a private chef for high profile clients on the Peninsula for two and a half years. Both Jeff and Lori have also filled in at their friends' restaurants Nopa and Delfina in the area.
At Baker and Banker, Jeff creates local and seasonal New American cuisine. Playing on global ingredients and influences, many of the dishes stem from his travels to France, Italy, Southeast Asia, and beyond. Compiled to create an ever-evolving menu with French technique and worldly influences, Baker and Banker provide guests with an intimate experience in the brasserie-style interior. Both Jeff and Lori can be seen exiting the kitchen to mingle and create an extra-personalized touch for restaurant guests.