Recipes
Delicious and Fresh Tuna Sandwich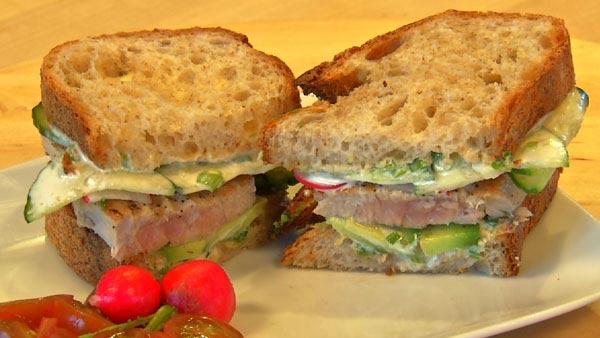 Servings: 4
Difficulty: Easy
Time:
Provided by: Bruce Aidells
4 steaks fresh tuna 3/4 inch thick (about 4-6 ounces each
tuna choices such as Ahi or Tombo)
1 tablespoon peanut oil
1/2 cup mayonnaise
1 teaspoon white miso
1 teaspoon Asian sesame oil
2 teaspoons minced ginger
1 teaspoon rice wine vinegar
3 tablespoons finely chopped green onion
1 teaspoon sugar
1/2 teaspoon soy sauce
1/2 medium English hothouse cucumber, unpeeled, thinly sliced
1 avocado, peeled, seeded and thinly sliced
8 medium red radishes, thinly sliced
8 slices crusty white bread
Directions
Season fish with a sprinkling of salt and pepper.
Heat a heavy ridged grill pan or cast iron frying pan over medium high heat. Coat generously with oil. Add fish and cook 1 1/2 to 2 minutes. Turn and cook 2 minutes more (tester -- I prefer the tuna to be medium rare). Remove fish and set aside.
Combine all Asian mayonnaise ingredients in a bowl and whisk until smooth.
To assemble each sandwich, generously spread both pieces of bread with mayonnaise. Cover one side with a layer of cucumber followed by a layer each of radish and avocado. Sprinkle lightly with salt. Top with the warm fish and the other slice of bread. Cut sandwich in half and serve.