Recipes
Curry and Prawns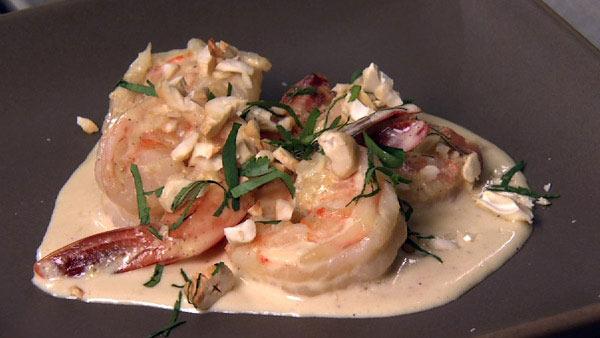 Servings: 4
Difficulty: Easy
Time:
Provided by: Executive Chef Ravi Kapur
1/4 cup oil
2 Onions sliced
1 cup shallots sliced
12 garlic cloves sliced
1Tsp. fenugreek
1Tbsp. cumin
1/2 Tsp. cardomom
1Tsp. brown mustard seeds
1/4 Tbsp. fennel seeds
1/4 Tsp. coriander seed
1Tsp. black pepper
1/4 Tsp. tumeric
3/4 Tsp. chili flakes
1 Tbsp. salt
Directions
For the curry base, caramelize onions and shallots, add garlic and cook until soft. Toast and grind the following spices -- fenugreek, cumin, cardomom, brown mustard seeds, fennel seeds, coriander seed, black pepper. Add spices and cook over low heat for about 10 minutes. Place on parchment lined baking sheet and dry for about 3 to 4 hours in a 200 degree oven. Store in the refrigerator.
Curry Cream
4T curry base
1 qt cream
1/2C cashews, toasted
1/4C sesame seeds toasted
Bring all ingredients gently to a boil. Carefully blend until smooth. Adjust consistency with water. Season with salt as necessary.
Gently poach prawns in the curry.
Enjoy!
For more information visit Prospectsf.com.