Recipes
Chocolate and Salty Caramel Panna Cotta Parfait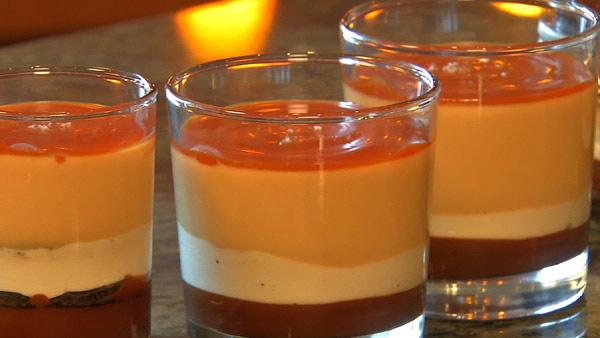 Servings: 8
Difficulty: Easy
Time:
Provided by: Tracy and Christina Anderson
1 cup (5 oz.) Dark chocolate, finely chopped 3/4 cup heavy cream 1 Tablespoon espresso powder 1/2 cup heavy cream 2 teaspoons sugar 1 1/2 teaspoons whiskey 2 cups sugar 2 cups cream 2 teaspoons fleur de sel (sea salt)
Directions
For the mocha ganache, put 1 cup dark chocolate in a small mixing bowl. Heat the cream to boiling, whisk in the espresso powder and pour over the chocolate. Starting in the center using a small circular motion, emulsify the cream (3/4 cup) and chocolate, whisking until smooth.
For the whiskey whipped cream, combine 1/2 cup heavy cream, 2 teaspoons sugar and 1 1/2 teaspoons whiskey, and whip to soft peaks.
For the salty carmel sauce, heat 2 cups cream to boiling and set aside. In a 4-quart heavy bottomed saucepan, heat one cup of the sugar over moderately high heat. Do not stir until the sugar starts to melt and turn caramel colored around the edges (or sometimes in the middle depending on your stove). Stir until the sugar is melted out, then gradually add the second cup, stirring constantly. When the sugar is a deep caramel color, carefully add the cream a little at a time while stirring. Be careful -- there will be steam -- an oven glove is a good idea. Keep stirring -- especially around the edges of the pan- and adding cream until you have a nice caramel sauce with all the sugar melted out. Stir in 2 teaspoons of salt. Remove half of this mixture (1 1/2 cups) to a heat-proof container and set aside for the final step, leave the rest in the pan for the panna cotta. This is a great sauce over anything and can also be made ahead. I always have it laying around. You can also buy storebought carmel sauce, just add salt. Store leftovers in the refrigerator.
Salty Caramel Panna Cotta:
1 1/2 cups milk
2 cups heavy cream
2 pkgs. powdered gelatin
1 1/2 cups Salty Caramel Sauce (from above left in the saucepan)
Put 1/2 cup of the milk in a small bowl and sprinkle the gelatin over the top. Let "bloom" for 10 minutes. Meanwhile, heat the remaining one cup milk to boiling. Pour over the gelatin (after the 10 minutes, mind you) and whisk until completely dissolved. Pour this over the salty caramel sauce and stir until thoroughly combined. Add the cold heavy cream and stir to combine again. Let cool to room temperature before using (but don't refrigerate yet, or it will start setting up prematurely). Or, if you don't want to bother with all the other layers of stuff, just pour this into cups, cover and refrigerate at least 3 hours. It's pretty darn good all by itself.
Final Assembly: You will need a package of Famous Chocolate Wafers (or if you are ambitious, I have a recipe to make your own.) Whichever glasses you use, trim the chocolate wafers to just fit within the glass and make sure each layer sits completely on top of the next (no air gaps). Divide the mocha ganache evenly among eight glasses and place a chocolate wafer on top, making sure it is full contact with the ganache. Refrigerate until pretty firm. Pipe a thin layer of whiskey cream, making sure you go all the way to the glass- you want your pretty layers to be visible. Press a chocolate wafer over the cream making sure the cookie is in full contact with the cream. Let sit about 10 minutes to set the wafer -- they tend to want to float up in the panna cotta if they are not secure in the cream. Carefully pour the panna cotta mixture over the cookie to your desired level. (I usually end up with extra yoo hoo, more for me!) Extra carefully, place the parfaits in the refrigerator and cover. You don't want to slosh around on your way to refrigerator -- it will show on your glass. After at least 3 hours or overnight, and just before serving, spoon about 1 1/2 tablespoons of room temperature salty caramel sauce over the top, spreading it evenly over the entire top (cold caramel sauce won't spread easily).
Guest Chefs:
TRACY WOOD ANDERSON
Tracy Wood Anderson began her cooking career at the age of five when her parents came home to a lemon meringue pie and a spooked babysitter pointing to Tracy and saying "she just did it, I didn't have anything to do with it." Tracy and food have always gone together, but it being part of her nature, she did not immediately consider it as a career and attended Scripps College and earned a B.A., majoring in studio art. Not particularly wanting to throw herself into the spinning fan blades of the art world, and finding out that not every girl out there could cook, she finally considered food as a vocation. After a short stint at the restaurant in the Calistoga Inn to make sure this was the right direction, she enrolled in San Francisco's California Culinary Academy. After a 16 month program in the Culinary Arts, she graduated with top honors and discovered that pastry was her specialty of choice.
A short period in the pastry department at Domaine Chandon was followed by a much longer period at her husband John Anderson's family winery, S. Anderson Vineyard. There, Tracy was chef for their winery events ranging from 8 to 500 people, learned the art of blending their sparkling and still wines as well as performing the myriad of other jobs that crop up at a family winery. Balancing this with raising a family was her life's pursuit of over fifteen years.
2002 marked a change for Tracy when the focus of her life switched from wine to chocolate. She spent two years at home and traveling in Belgium and France, tasting, taking courses in chocolate and confectionary, and generally just up to her elbows in chocolate developing her own creations. The combination of her art background, her sensitivity to flavors and her love of food and sharing the fruit of her labor culminates in what is now Woodhouse Chocolate.
CHRISTINA ANDERSON
Christina Anderson earned a degree in studio art from Scripps College. She is currently finishing up at the California Culinary Academy while working full-time at Prospect in San Francisco. Passionate about cooking, Christina also loves printmaking and photography.