Recipes
Chinese Marinated and Roasted Pork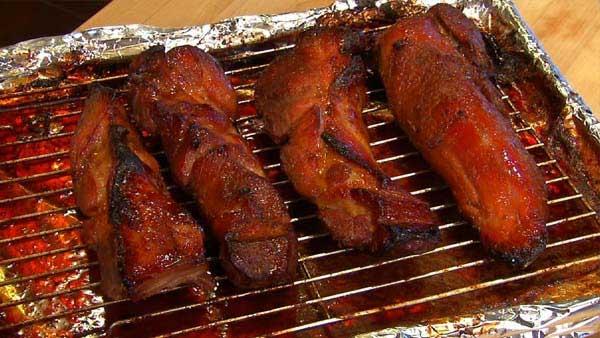 Servings: 4 to 8 depending on cuts used
Difficulty: Easy
Time:
Provided by: Chef Bruce Aidells
1 tablespoon minced garlic
2 tablespoons minced fresh ginger
1/4 cup sweet sherry
1/2 cup soy sauce
1/4 cup Hoisin sauce
2 tablespoons brown sugar
1 tablespoon dry mustard, preferably Coleman's
1 teaspoon Chinese 5-spice powder
2 to 3 pounds pork tenderloins or butterflied Boston butt cut into 2- x 2- x 12-inch
Honey Baste (double the recipe for spare ribs)
1/2 cup honey
1/4 cup brown sugar
Directions
Flavor step: In a medium bowl, whisk together the minced garlic, ginger, sweet sherry, soy sauce, Hoisin sauce, brown sugar and dry mustard. Place the pork in a large zip-lock bag or covered bowl and pour the marinade over. Refrigerate overnight or up to 3 days, turning a few times to coat the pork with the marinade.
Thirty minutes before cooking, remove the pork from the marinade. Preheat the oven to 450 dgree oven for pork tenderloin or Boston butt strips or 400 degree oven for ribs or pork chops which will take longer to cook -- the higher temperature may cause the sugar to burn.
Place the meat on a rack above a shallow pan that has been lined with aluminum foil. Mix together the ingredients for the Honey Baste (honey and brown sugar) and brush it generously over the meat.
Roast pork tenderloins for 10 to 12 minutes or until the internal temperature reaches 145 degree oven. Brush the meat 3 times while it cooks with Honey Baste for all the cuts. Roast all the other meats to an internal temperature of 150 degree to 155 degree oven. Spare ribs will take 45 minutes to 1 hour, pork chops and country-style ribs will take 30 to 45 minutes.
Brush the meat with the Honey Baste one last time when you remove it from the oven. Allow the meat to rest, loosely covered with foil, for 5 to 10 minutes before carving.
* The Chinese have long been the world's masters at pork cookery. They know how to bring out pork's succulent flavor while keeping it juicy and tender. A basic ingredient in many Chinese pork dishes including soups, sauteed noodles, stir-fries, and stuffings for dumplings is the marinated roasted pork usually called barbecued pork or char su. Most Chinese chefs prepare char su from large strips cut from butterflied pork shoulder butts. This has more fat than the loin or tenderloin, but is also juicier and more flavorful. The marinade below works equally well with the traditional Chinese cut, and spare ribs, country-style ribs, baby back ribs, thick pork chops, pieces of boneless loin, or pork tenderloins. Once it is marinated, all you have to do is place the meat on a rack and roast it in a 350 degree oven to the appropriate degree of doneness, brushing it occasionally with a baste of honey and brown sugar.
When it is cooked, the pork can be eaten hot or at room temperature. You can serve it sliced over steamed baby bok choi, boiled chinese broccoli, stir-fried snow peas or other vegetables. Serving portions depend on whether the meat has bones or not: a slab of spare ribs will feed 2 or 3 people while a rack of baby back ribs will feed 1 or 2, while 1/3 to 1/2 pound of boneless meat is a generous serving for one person.