Recipes
Chilaquiles de Chorizo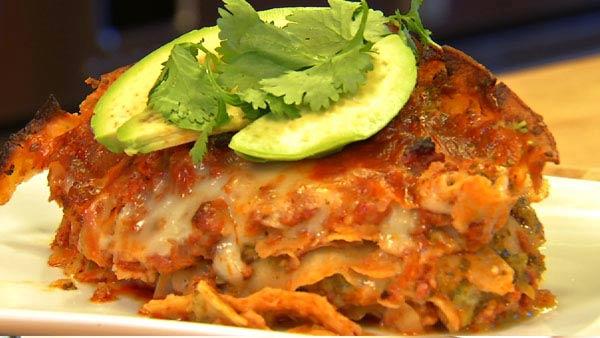 Servings: 6
Difficulty: Easy
Time:
Provided by: Bruce Aidells
2 tablespoons olive oil
3-4 fresh Anaheim or other mild green chilies
6-8 tomatillos, husks removed and parboiled 5 minutes, or canned, straight from the can
2 medium onions
4 cloves garlic
1 bunch fresh cilantro
1 or more cups chicken stock
Salt and pepper to taste
1 1/2 pounds chorizo or other fresh Mexican or Southwest sausage, in bulk or removed from casings
2 cups finely chopped onions
16 corn tortillas cut into sixths
Oil for deep frying
6 cups shredded jack cheese
Avocado slices
Fresh cilantro sprigs
Directions
To make the sauce, coarsely puree the olive oil, chilies, tomatillos, onions, garlic, and cilantro in a food processor. Combine with the chicken stock in a saucepan and simmer for 5 minutes. Taste for salt and pepper and reserve.
Fry the chorizo over medium-high heat, breaking up the meat with a fork, for about 5 minutes. Pour off all but 2 tablespoons of the fat, add the finely chopped onions, and cook another 5 minutes, until the onions are soft.
Meanwhile, deep-fry the tortilla wedges in batches for 1 to 2 minutes, until they are crisp but not brown. Drain well on paper towels.
To assemble the chilaquiles, oil a 3-4 quart casserole. Make layers of tortilla chips, chorizo, jack cheese, and sauce. Repeat until all the ingredients are used. Press down with a plate, making sure all the solids are covered with liquid. Otherwise, add more stock. Cover with foil, and refrigerate overnight so that the tortillas absorb the liquid. The next day, remove the plate and sprinkle the top with more shredded jack cheese. Bake, covered, in a preheated 350 degree oven for 45 minutes. Garnish with cilantro and avocado slices.