Recipes
Chicken and Chinese Sausage Lettuce Cups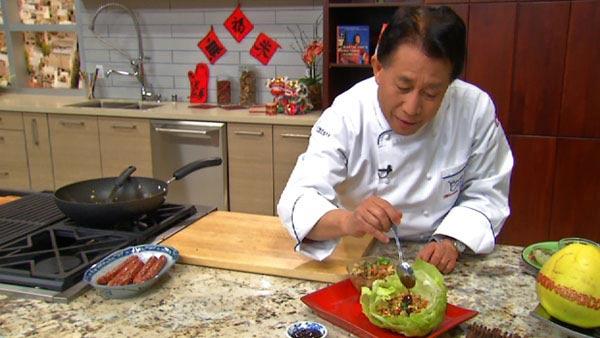 Servings: 4
Difficulty: Easy
Time:
Provided by: Chef Martin Yan
3/4 pound ground chicken or ground turkey
1 1/2 teaspoons cornstarch
1 tablespoon Chinese rice wine or dry sherry
2 tablespoons vegetable oil
1 teaspoon minced ginger
1 clove garlic, minced
1 tablespoon oyster-flavored sauce
2 teaspoons soy sauce
1/3 cup finely chopped water chestnuts
1 carrot, finely diced
1/3 cup finely diced red bell pepper
1 green onion, chopped
1/4-cup hoisin sauce
8 small leaves iceburg lettuce
2 dried black mushrooms
2 links Chinese sausage
Directions
1. In a small bowl, soak mushrooms in warm water to cover until softened, about 15 minutes; drain. Discard stems and finely chop caps. In a medium bowl, combine chicken, cornstarch, and wine; mix well. Let stand for 15 minutes.
2. Heat a small skillet over medium heat. Add the sausage and cook, stirring occasionally, until sausage begins to lightly brown, 3-4 minutes. Drain on paper towels. Set aside.
3. Place a stir-fry pan over high heat until hot. Add oil, swirling to coat sides. Add ginger, garlic, and mushrooms and cook until fragrant, about 15 seconds. Add chicken and stir-fry until crumbly and no longer pink, about 2 minutes. Add oyster-flavored sauce, soy sauce, carrots, bell peppers, water chestnuts, and cooked Chinese sausage; cook until chicken is fully cooked through, 1 to 2 minutes. Stir in green onions.
4. To eat, spread a little hoisin sauce in a lettuce cup, spoon in some of the chicken mixture, fold lettuce around filling, and eat out of hand.
Adapted from Martin Yan's Quick and Easy (Chronicle Books)
Copyright Yan Can Cook Group 2011
Guest Chef: Martin Yan
The celebrated host of over 3,000 cooking shows, broadcast worldwide, Martin Yan enjoys distinction as a certified Master Chef, a highly respected food consultant, a cooking instructor and a prolific author. His diverse talents have found expression in 30 cookbooks, including the award-winning Martin Yan's Feast, Martin Yan's Asian Favorites, Chinese Cooking for Dummies, Martin Yan's Chinatown Cooking (intro by Julia Child), Martin Yan's Quick & Easy, and his latest, Martin Yan's China (a cookbook that documents his travels throughout the far reaches of China, and his culinary discoveries).
Born in Guangzhou, China, to a restaurateur father and a mother who operated a grocery store, Chef Yan possessed a passion for cooking at an early age. His formal induction into the culinary world began at age thirteen, with an apprenticeship at a popular Hong Kong restaurant. He refined his natural talent at the Overseas Institute of Cookery in Hong Kong, and then pursued an MS in Food Science at The University of California/Davis in the US. He discovered a flair for teaching when he became an instructor in the university's extension program. In 1978, he pioneered a daily TV Chinese cooking show: the now classic "Yan Can Cook." Infusing lessons with his characteristic warmth, humor and vitality, he quickly won a devoted following. He developed the show's format into a culinary travelogue, featuring culinary hot spots throughout Asia.
A valued instructor at top culinary institutions, Chef Yan has taught at The Culinary Institute of America, Johnson and Wales University, The California Culinary Academy and The Chinese Cuisine Institute in Hong Kong. In 1985, he founded the Yan Can Cooking School in California and in 2007 founded The Martin Yan Culinary Arts Center, a unique international culinary academy for professional chefs in Shenzhen, China. Also a restaurateur, his Yan Can and SensAsian Restaurants offer inventive pan-Asian menus.
The recipient of numerous awards and honors, Chef Yan is internationally recognized as an accomplished chef among his peers. He has also captured the attention, admiration and hearts of millions of fans by spicing his cooking artistry and teaching with a personal ingredient: wit. Via television or in person, a session with Chef Yan proves invigorating as well as educational. Dedicated to dispelling the mysteries of Asian cooking, Yan furthers an understanding of these excellent cuisines, and the cultures that created them, with spirited lessons, fun and entertainment.