Recipes
Calamari Herb Salad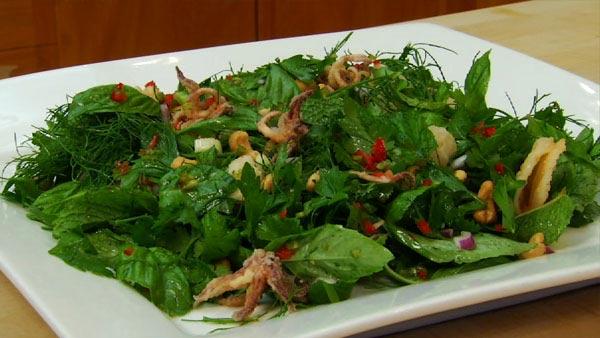 Servings: 8
Difficulty: Easy
Time:
Provided by: Margo True
3/4 c fresh lime juice (6-8 large limes)
2 T sugar
1/4 cup Thai or Vietnamese fish sauce (nam pla or nuoc mam)
1 each red and green jalapeno chiles, seeds and ribs removed and minced
2 cups each loosely packed mint, basil, dill, flat-leaf parsley, and cilantro leaves
1/2 cup chopped red onion
1/2 cup sliced celery (1/4 inch thick)
1 cup salted whole cashews
4 cups vegetable oil
1 lb. cleaned fresh or thawed frozen squid tubes and tentacles
1/2 cup each all-purpose flour and rice flour
1 t kosher salt, plus more to taste
1/4 t cayenne
Directions
1. In a small bowl, combine lime juice, sugar, fish sauce, and chiles. Set dressing aside.
2. In a large serving bowl, combine mint, basil, dill parsley, cilantro, onion, celery, and cashews. Set aside.
3. In a 4-qt pot about 10 inches in diameter, heat oil until it registers 360 degrees on a deep-fry thermometer.
4. While oil is heating, slice squid tubes in half lengthwise with a sharp knife. Lay each half flat, inside up, and gently score three or four lines across it with the point of a knife; turn it 90 degrees and score three or four lines across the first score marks to make a grid pattern (think tic-tac-toe). Put In a small bowl with tentacles. Set aside.
5. In another small bowl, combine all-purpose flour, rice flour, salt, and cayenne. Drop squid pieces into flour mixture, turning to coat well. Shake off any excess.
6. Working in three batches, fry squid 4-5 minutes per batch, until pieces are curled and light brown. Using a slotted spoon, transfer fried calamari to a large plate lined with several folded paper towels and sprinkle lightly with salt to taste. Allow oil temperature to return to 360 degrees between batches.
7. Add warm calamari to herb mixture and pour half the dressing over it. Toss gently just until coated. Serve immediately with remaining dressing on the side.
Quick Tip: If you discover any uncleaned squid tubes, just pull out and discard the long, clear quills and rinse out tubes. Rice flour can be found in the Asian foods section of most supermarkets.