Recipes
Bread and Heirloom Tomato Salad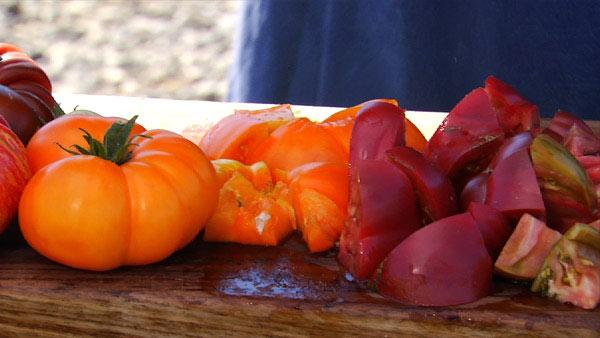 Servings: 6 servings as a first course
Dressing: 1/4 cup red wine vinegar
1/2 cup extra virgin olive oil
1/4 tsp. salt
1/2 tsp. freshly ground black pepper Salad: 4 cups stale coarse textured bread such as sourdough, French or ciabatta. Cut into 2 inch cubes (don't remove crust)
4-6 cups cold water
2 lbs. heirloom tomatoes of any variety cut into 1 inch cubes (about 4-5 cups)
1 cup cucumbers cut into cubes (optional)
1 cup thinly sliced red sweet onion
1/4 cup coarsely chopped Italian parsley
1.2 cup torn fresh sweet basil leaves
Salt and freshly ground pepper
Directions
1. To make dressing, gradually whisk oil into the vinegar. Stir in the salt and pepper and set aside while you prepare the salad.
2. Drop bread into a large salad bowl in just enough water to cover the bread. Soak for 5 minutes. Strain and squeeze out the water. Wipe bowl dry.
3. Add the bread back to the bowl. Add tomatoes, optional cucumbers, onion, parsley and basil. Toss with the dressing. Save any leftover dressing in the refrigerator. Add salt and pepper to taste.