Recipes
Bone Marrow Calzone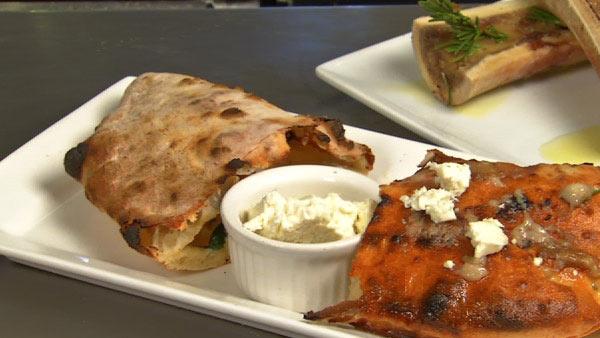 Servings: 2
Difficulty: Easy
Time:
Provided by: Tony Gemignani
Flour and Semolina
1 Dough Ball
1 six inch piece Bone Marrow (split in half)
3 oz Sautee Spinach
1 oz Chopped Garlic
2 oz Sliced Imported Smoked Pancetta
3 oz Whole Milk Ricotta
4 oz Whole Milk Mozzarella (Shredded)
4 oz (1link) Italian Fennel Sausage (Sliced Thin)
1 White Rose Potato (Sliced Thin)
2 oz Feta (in a ramekin)
Pinch Crushed Red Pepper
Sea Salt
1 teaspoon chopped Rosemary
Parmesan
Olive Oil
Directions
In a saute add both pieces of bone marrow. Drizzle olive oil and salt over the top and place into oven for 2 minutes. Carefully using oven mitts or a towel take out sauté and drizzle more oil, rosemary, and salt and set aside
Dust your dough ball with flour and semolina
Using your hands or a rolling pin, shape, stretch and or roll your dough ball out into a 10 to 12 inch circle..
On one half add mozzarella, potatoes, spinach, sausage, pancetta, garlic, parmesan, crushed red pepper, ricotta.. Fold over other dough in half moon and close using your fingers or a fork.
Place calzone into your oven and cook each side for 45 seconds each. Keep turning calzone until all sides are golden brown with some char.
Take out of oven and cut calzone in half.
Using your marrow smear some on each slice of calzone and top with feta and olive oil.
Guest Chef:
Tony Gemignani
Chef/Owner

Born and raised on an apricot and cherry orchard farm in Fremont, California, Gemignani's childhood was filled with boisterous, family dinners. Growing up, he spent much of his time cooking alongside his mother, who would only use the fruits and vegetables that came straight from the family farm. This culinary philosophy of utilizing only the freshest ingredients has stayed with Tony throughout his life and is reflected throughout his menus.
Gemignani has had a passion for the pizza industry since 1991. His humble beginnings began at his brother's infamous Pyzano's Pizzeria in Castro Valley. Fresh out of high school, Tony took on the task of a pizza thrower and soon began entertaining the restaurant crowds with his wily tricks. A few years later, he entered into his first pizza throwing competition in Las Vegas and quickly became the top pizza thrower in the world, in addition to becoming a partner at Pyzano's.
Since his days at his brother's pizzeria, Gemignani has received a number of accolades for his impressive pizza making and throwing skills. He is a nine-time World Champion Pizza Acrobat; president of the World Pizza Champions; the first and only Triple Crown winner for baking at the International Pizza Championships in Lecce, Italy; and, his most prestigious title to date, the 2007 World Champion Pizza Maker at the World Pizza Cup in Naples, Italy, where he was the first American and non-Neapolitan victor. He has tossed pizzas with celebrities such as Michael Douglas, James Caan and Howie Mandel, as well as appeared on popular shows like The Tonight Show with Jay Leno and Good Morning America. Gemignani also received his Master credentials from the Scuola Italaina Pizzaioli and is the proprietor of the International School of Pizza where he certifies chefs from around the world. His most impressive accolade to date is being named the official U.S. ambassador of Neopolitan pizza by the city of Naples, a prestigious title only given to three people in the entire world.
In an effort to share his talent and passion with aspiring pizza-throwing connoisseurs, Gemignani collaborated with acclaimed cookbook writer, Diane Morgan, on his first cookbook PIZZA, which was showcased on Emeril Live and The Rachael Ray Show. Following the success of PIZZA, he wrote his first children's book, Tony and the Pizza Champions, a fictionalized telling of a pizza team's journey to compete in the international Pizza Lovers competition. Tony was also inducted into the Guinness Book of World Records twice for creating the largest pizza, as well as the most consecutive rolls across the shoulders, a unique throwing trick which involves rolling the pizza dough along the back of the shoulders.
In 2009, Gemignani fulfilled his lifelong dream by opening Tony's Pizza Napoletana in San Francisco's North Beach neighborhood. At the eponymous restaurant, Tony hand-crafts his award-winning pizza Margherita utilizing the same Cirigliano wood-burning oven used to win in Naples. The pizzeria also offers several styles of pizzas, including Classic American, Italian, Sicilian and Neapolitan pizzas artfully made with artisan flours, an array of authentic sauces, and seasonal ingredients and finished in four different, regionally-specific ovens. The restaurant was met with immediate success upon opening and was named one of the Top 10 Pizzerias in the U.S.
Tony now owns five pizzerias across and the country and lives with his wife of ten years in San Francisco.