Recipes
Beef Chow Mein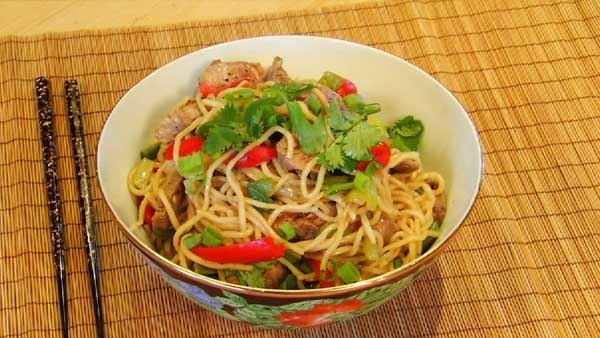 12 ounces fresh Chinese egg noodles
3 tbsp. of peanut oil, divided
1 cup of thinly sliced onions
1 cup of fresh green beans cut into 2 inch pieces
1 red bell pepper cut into quarters and each quarter cut crosswise into &frac14
inch strips
2 cup of bok chow cut into &frac14
inch slices
10 green onions cut into 2 inch pieces
6 cloves of thinly sliced garlic
1/4 cup of low sodium chicken broth
1 tbsp. of soy sauce
3 tbsp. of oyster sauce
1 tbsp. of sugar
1/2 pound of thinly sliced cooked steak (about 2 cups)
1 tbsp. of sesame oil
Directions
1. Boil noodles for two minutes in a large pot of salted water stirring to separate noodles. Noodles should be slightly under done. Drain and cool under cold running water. Toss with 1 tablespoon of peanut oil and set aside.
2. In a large heavy non-stick skillet heat 1 tablespoon of peanut oil on high heat and add onions and green beans and toss and stir until crisp tender and remove from pan, Add remaining tablespoon of oil to pan and stir fry remaining vegetables.
3. Combine soy, oyster sauce, and sugar in a small bowl and set aside.
4. Add noodle to the pan with vegetables along with the remaining reserved vegetables and steak. Pour over sauce and toss until everything is well coated, about 1 minute. Pour over sesame oil and toss for a few seconds. Garnish with optional cilantro and green onions. Serve immediately.