Recipes
Apple and Cornbread Stuffing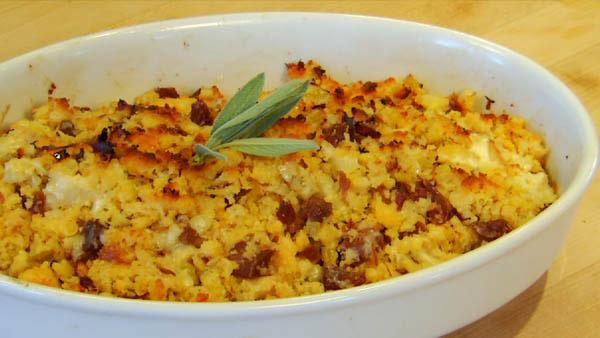 Servings: Makes about 6 servings. Double recipe to serve with a 16-20 lb. turkey.
Difficulty: Easy
Time:
Provided by: Bruce Aidells
4 tbsp. unsalted butter, divided
1 cup finely chopped onion
&frac12
cup finely chopped celery
Salt and freshly ground pepper
2 cups cored and peeled granny smith apples, cut into 1-inch diced cubes
1 cup finely chopped ham
1 tsp. chopped fresh thyme
2 tsp. chopped fresh sage
4 cups dried cornbread stuffing mix (store bought or homemade) &frac12
cup or more apple juice
1 egg, lightly beaten
Directions
1. Preheat oven to 350 degrees Fahrenheit.
2. Heat 2 tablespoons butter in a heavy medium skillet over medium heat and add the onion, celery, and a pinch each of salt and pepper. Cover the pan and cook until the vegetables are quite soft, stirring occasionally, about 10 minutes. Stir in the apples and ham. Cook 1 minute more, stirring the mixture so the ingredients are well combined.
3. Transfer the apple mixture to a good size bowl. Sprinkle with sage and thyme and stir in the cornbread crumbs, apple juice and egg. The mixture should be moist, but not wet. Incorporate more juice if the mixture seems too dry. Adjust seasoning with salt and pepper.
4. Butter a casserole dish with 1 teaspoon butter. Spoon in the stuffing. Dot the top with remaining butter and bake 20-30 minutes or until the top is lightly browned.