Recipes
Turkey and Vegetable Stew with Dumplings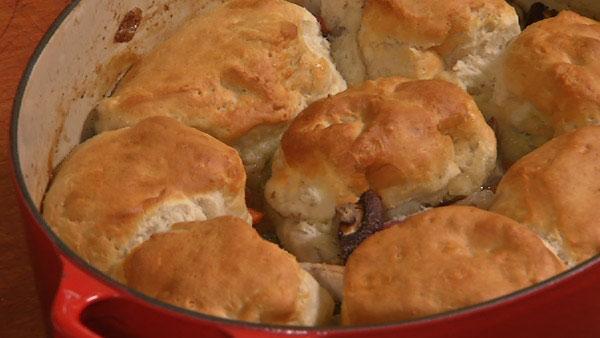 Servings: 8
Difficulty: Easy
Time:
Provided by: Chef Ryan Scott
3 tablespoons unsalted butter
3 tablespoons canola oil
1 onion, chopped medium
4 medium carrots, medium dice
2 celery stalks, sliced on the bias 1/2 inch pieces
2 parsnips, peeled, medium dice
12 small red potatoes, cut in halved or quartered
1 cup small pearl onions, peeled
12-18 crimini mushrooms, halved or quartered
1 cup peas
4 cups cooked turkey, pulled or chopped in bite size pieces
2 bay leaves
1 tablespoon sage, chopped (fresh preferred)
1 tablespoon rosemary, chopped (fresh preferred)
1 tablespoon thyme, chopped (fresh preferred)
2 teaspoons kosher salt
1 teaspoon pepper
2 tablespoons All Purpose flour
1/2 cup dry white wine
4 cups turkey or chicken stock
1 16 ounce can of refrigerated biscuits
Directions
In a heavy oven proof pot, melt butter and add oil.
Add herbs and stir well.
Add chopped onions, carrots, celery and parsnips. Sauté, stirring occasionally for 20 minutes, Until onions are translucent.
Whisk together the flour and ˝ cup stock. Add to pot.
Add white wine and stock, bring to a low boil.
Add the pearl onions, red potatoes and mushrooms. Bring to a simmer and cook for 20- 30 minutes, until the potatoes are tender, but not mushy.
Add the peas and turkey heat through.
Preheat oven to 350 degrees
Top the stew with the unbaked biscuits.
Bake for 15- 20 minutes until biscuits are golden brown.