Recipes
Turkey Tetrazzini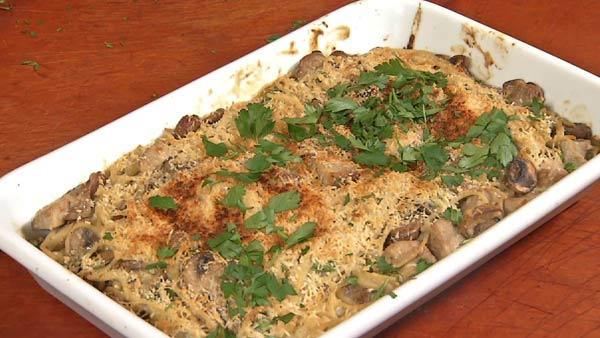 Servings: 8
Difficulty: Easy
Time:
Provided by: Chef Ryan Scott
12 ounces spaghetti, linguini or other pasta, cooked al dente
12 ounces mushrooms, sliced and sauteed
1/2 cup butter, unsalted
1/4 cup All Purpose flour
1 1/2 cup whole milk
1/4 cup cream
2 cups chicken broth
1/4 cup sherry or vermouth or dry white wine
3 cups cooked turkey, coarsely chopped
1 cup peas
2/3 cup freshly grated Parmesan (divided in half)
1/3 cup Swiss cheese, grated
2 tablespoons lemon juice
Kosher salt and freshly ground pepper
Ground nutmeg (optional)
1/3 cup fine fresh bread crumbs or panko
Freshly chopped parsley for garnish (optional)
Directions
Melt butter and blend in flour, salt, pepper and nutmeg
Gradually add the chicken broth and cook over low heat, stirring constantly until thickened.
Add milk, cream and sherry, heat to low boil, remove from heat and 1/3 cup parmesan and Swiss cheese.
Mix in the turkey, mushrooms, peas and pasta.
Place in a well buttered 13" X 9" baking dish.
Sprinkle with remaining parmesan cheese and panko crumbs.
Bake in a preheated 375 degree oven for 20 minutes until top is bubbling and well browned.