Recipes
Tomato Jam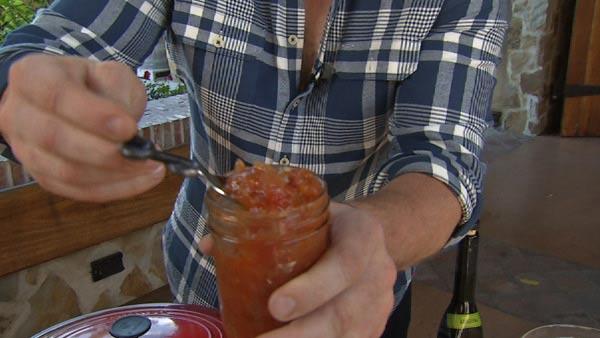 Difficulty: Easy
Provided by: Ryan Scott
2 cups yellow onion, diced small
2 tablespoons ginger, minced
2 teaspoons garlic, minced
1/4 cup extra virgin olive oil
3 pounds tomatoes, blanched, peeled and diced
1 cup white balsamic vinegar
3/4 cup brown sugar
1 cinnamon stick
1 tablespoon salt
Directions
Sweat onions, ginger, garlic in the olive oil in a large non metallic pot until the onions are tender. 5-10 minutes Add tomatoes, vinegar, brown sugar and cinnamon stick and salt and bring to a boil.
Cover and bake for at least 2 hours at 300 degrees or until the mixture is thickens.
Adjust the seasoning with more sugar or salt, it all varies on the tomatoes, so adjust to your liking. If you prefer a thicker jam consistency, strain the mixture.
The jam will refrigerate for a week or freeze.