Recipes
Tiramisini ala Ryan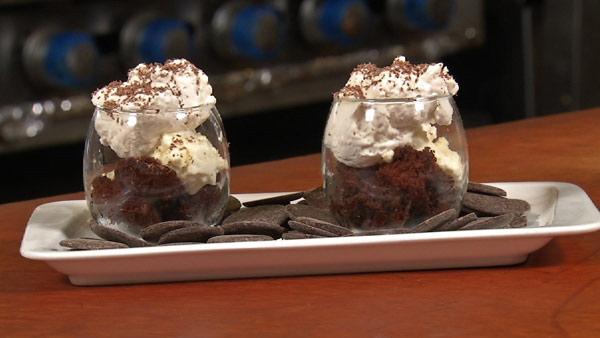 Servings: 6
Difficulty: Easy
Time:
Provided by: Chef Ryan Scott
6 tablespoons espresso or strong instant coffee, cooled
2 tablespoons coffee liqueur
6 slices of chocolate sponge or pound cake 2" X 4" each
1/2 cup ricotta cheese, softened
1/4 cup cream cheese, softened
1/4 cup sour cream
2 tablespoons sugar
1 cup fresh whipped cream, lightly sweetened and flavored with a touch of vanilla
Dark chocolate for garnish
Directions
Mix together the espresso and coffee liqueur.
Break the cake pieces into about four pieces and drop them into the mini wine glasses, then pour the espresso mixture over them.
Tamp down gently, making sure the cake is soaked thoroughly.
Carefully spread a layer of the ricotta cheese evenly on top of the chocolate cake.
Mix together the cream cheese, sour cream and sugar.
Blend well.
Carefully fold in the whipped cream.
Dollop the mixture generously on top of the ricotta cheese.
Refrigerator for at least 30 minutes or up to 24 hours.
When ready to serve finely grate the chocolate on top.
If you don't have mini wine or martini glasses, use small ramekins, tall shot glasses or you can use one larger bowl.