Recipes
Thai Crispy Watercress Salad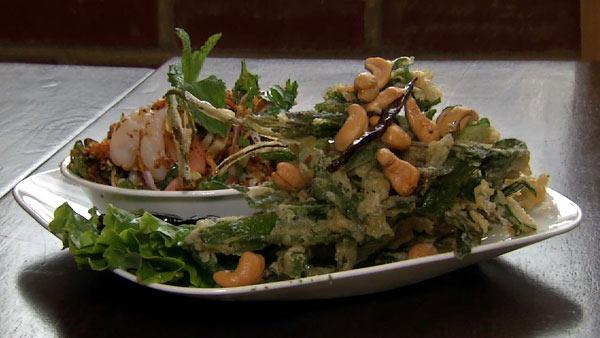 Servings: 4
Time:
Provided by: Chef Ryan Scott
2 cups chicken, cooked and cut in bite size pieces
12 ounces fresh shrimp, peeled, deveined, cooked and chilled
8 ounces squid, cooked and sliced into rings
3-4 green onions, thinly sliced
1/4 medium red onion, thinly sliced
1/4 cup cilantro, washed, stemmed and chopped or to taste
1/4 cup mint, washed, stemmed and chopped or to taste
1/4 cup peanuts, roughly chopped
2 tablespoons fried garlic
2 tablespoons toasted coconut
2 tablespoons shallots, thinly sliced and fried
Dressing (recipe below)
Watercress (There is a variety of watercress, the long leaf Asian variety works best, but use what is available)
Rice flour
Canola oil for frying
Directions
Heat the oil in a wok or deep pan.
Lightly dredge the watercress in rice flour and quickly fry until crispy. Place on a rack to drain excess oil.
When ready to serve, toss all the ingredients except the watercress with the dressing. Plate with the fried watercress. Enjoy immediately!
Dressing:
2 teaspoons thai chile paste
6 thai chiles, chopped, seeded unless you want it really HOT!
1/4 cup lime juice, freshly squeezed
2 tablespoons sugar
2 tablespoons Thai soy sauce (can substitute other soy sauce)
Mix together the lime juice, sugar and soy sauce until the sugar is dissolved. Add the chile paste and chiles.