Recipes
Sweet Buttermilk Biscuits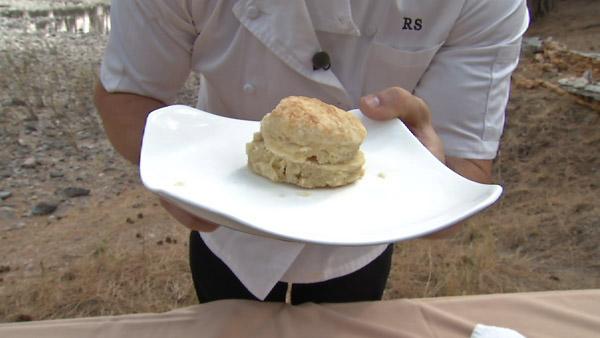 Servings: 24
Difficulty: Easy
Time:
Provided by: Chef Ryan Scott
4 cups All purpose flour 3 tablespoons sugar
1 tablespoon baking powder
1 teaspoon salt
10 ounces unsalted butter, cold and cubed
2 ounces butter, melted for brushing on finished biscuits
2 eggs
2 egg yolks
2 cups buttermilk
1/2 teaspoon Fresh ground pepper
Herbs Add 1 teaspoon your preference i.e. rosemary, lavender, thyme or sea salt
1/4 cup cream
Directions
Preheat oven to 375 degrees.
Line a baking sheet with parchment paper.
In a large bowl, combine flour, sugar, baking powder and salt.
Cut in butter until pea sized.
Add herbs and pepper. Add buttermilk and eggs to mixture. Mix until combined.
Turn out dough onto floured surface and knead for a few minutes until slightly smooth.
Roll dough out to a 2" thickness.
Cut biscuits out with biscuit cutter or use a glass.
Place biscuits on baking sheet and brush each biscuit with cream.
Bake for 20 minutes or until golden brown. Remove from oven and brush each biscuit with melted butter.