Recipes
Smoked Trout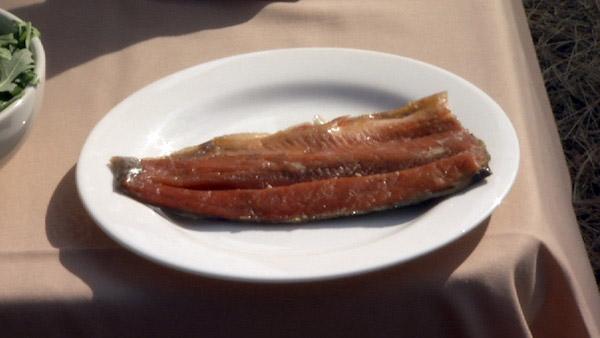 Difficulty: Intermediate
Time:
Provided by: Chef Ryan Scott
3 cups boiling water
1 cup light brown sugar
1/2 cup kosher salt
1 teaspoon freshly ground pepper
3 sprigs fresh thyme
2 bay leaves
zest of one orange
2 (10 ounce) whole rainbow trout, head on backbone out
2 cups wood chips
Cooking spray
Directions
Combine 3 cups water, sugar, salt, pepper, thyme, bay leaves and rind; stir until sugar and salt dissolve.
Let brine cool before pouring it over the trout. Vary the flavor of the brine by adding a pinch of crushed red pepper, maple syrup, minced garlic or ginger. You can use trout filets instead of whole fish. Filets will cook faster.
Place fish in a 13" X 9" glass baking dish. Cover and refrigerate overnight.
Soak wood chips in water for 1 hour. Drain well.
Prepare grill for indirect grilling, heating one side to medium high and leaving one side with no heat. Pierce bottom of a disposable aluminum pan. Place pan on heated side of grill: add wood chips to pan.
Remove fish from brine; discard brine. Rinse fish with cold water; pat dry.
Coat grill rack with cooking spray, place on grill. Place fish, skin side down, on unheated side; cover and grill 12-15 minutes or until fish flakes easily.
Flake with fork. Discard skin.