Recipes
Slow Cooker Asian Style Short Ribs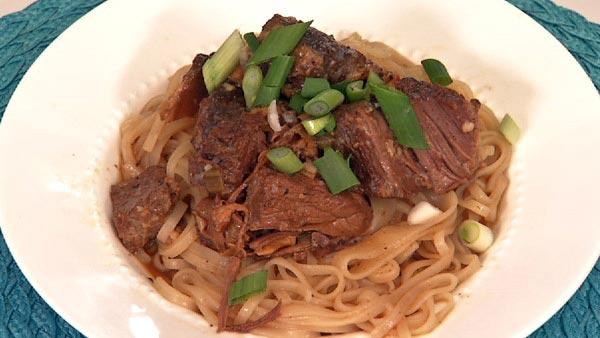 Servings: 6
Difficulty: Easy
Time:
Provided by: Chef Ariane Duarte
3 pounds bone in short ribs
1/4 cup honey
1/4 cup tamari
3 inch piece of fresh ginger, peeled and thinly sliced
1 tablespoon Asian chili sauce or sambal oelek
6 cloves garlic, chopped
1 bunch green onions, sliced
11/2 cup water
2 tablespoons canola oil
Kosher salt
Freshly ground pepper
12 ounces medium-thick rice noodles, pad thai noodles
2 limes, cut into wedges
Directions
Generously season the ribs with salt and pepper.
Heat oil in the crock pot and brown the ribs on all sides.
Stir together honey, tamari, ginger, chili sauce, garlic, ¾ of the green onions and water. Pour over the ribs.
Cover and cook on low seven to eight hours or until ribs are fork tender.
With a slotted spoon remove the ribs from the sauce. While warm remove the meat from the bones.
Cool the sauce and the skim the fat from the top. Reserve one cup of the sauce.
Return the meat to the sauce and heat through.
Prepare the noodles, drain and toss with the cup of reserved juice.
Serve garnished with remaining green onions and lime wedges.