Recipes
Sicilian Spaghetti Squash with Tomatoes, Garlic and Almonds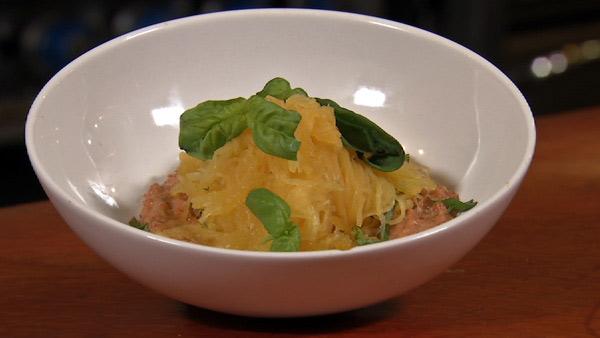 Servings: 4
Difficulty: Easy
Time:
Provided by: Chef Ryan Scott
1 spaghetti squash 3 to 4 pounds, baked and shredded
8 ounces cherry or grape tomatoes
6 anchovy fillets (DO NOT LEAVE THEM OUT!)
2 tablespoons golden raisins
2 cloves garlic
2 tablespoons capers, drained
1/3 cup skinned almonds
1/4 cup extra virgin olive oil
Directions
To make the spaghetti squash, rreheat oven to 375 degrees. Cut the squash in half, length wise. Place in a baking dish.
Brush with olive oil and season with kosher salt and fresh cracked pepper. Bake until tender, about 45 minutes to 1 hour.
Cool slightly and then shred with a fork.
To make the sauce, place all the sauce ingredients in the bowl of a food processor and pulse until the texture is nubby. Add a bit of water to loosen if necessary.
Shred the cooked spaghetti sauce in a warmed serving bowl. Pour the sauce on top, tossing gently to coat. Top with the basil and serve.
The combination of sweet and salty makes this dish delicious warm or cold!
Garnish with one bunch of basil, stemmed, thinly sliced.