Recipes
Salt Baked Branzino with Ratatouille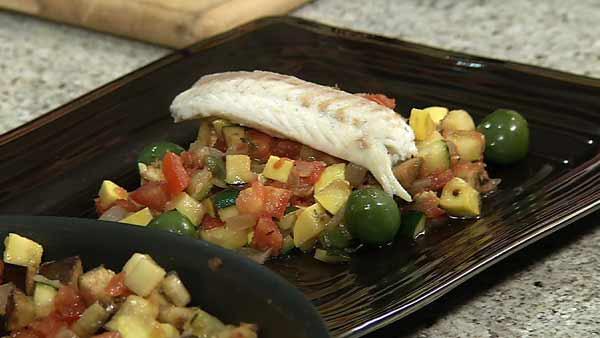 Servings: 3-4
Difficulty: Intermediate
Time:
Provided by: Chef Marcel Vigneron
1 3-4 pound Branzino, gutted but not scaled, head and tail on
1 5 pound box Kosher salt
2-3 cups water
2 lemons
1 bunch thyme
3 shallots, peeled and sliced
1-2 cups tomato sauce, homemade or store bought
1 bunch basil
1 onion, rustic dice
1 bay leaf
1 head of garlic, peeled and minced
1 yellow crookneck squash, rough dice
1 eggplant, rustic dice, about 1"
1 zucchini, rustic dice about1"
1/4 cup Castelvetrano olives, Italian green
Extra Virgin Olive Oil
Directions
Salt Baked Branzino
Preheat oven to 375 degrees.
Mix salt and water making a thick paste.
On a rimmed baking dish make an oval (fish shape) bed of salt, using half of mixture.
Stuff cavity of fish with one lemon sliced, thyme and shallots.
Place branzino on the salt bed and cover with remaining salt. Packing the salt tight.
Bake for 5 minutes per pound.
Remove from oven and let it rest for 5 minutes.
Carefully remove the top layer of salt.
Remove the scales and bones.
Place the pieces of fish on top of the ratatouille.
Sprinkle with lemon juice and a drizzle of olive oil.
Garnish with fresh basil.
Ratatouille
Sauté the garlic and onions in olive oil.
Remove from pan.
Sauté the vegetables individually, because each takes a different amount of cooking time.
Don't overcook. The vegetables should be done, but not mushy.
Combine the garlic, onions and vegetables together with the tomato sauce and bay leaf. Combine until flavors are blended. Garnish with olives.
Ratatouille is also wonderful served room temperature.