Recipes
Richard Blais' Burger with Candied Onions, Braised Bacon and Cheddar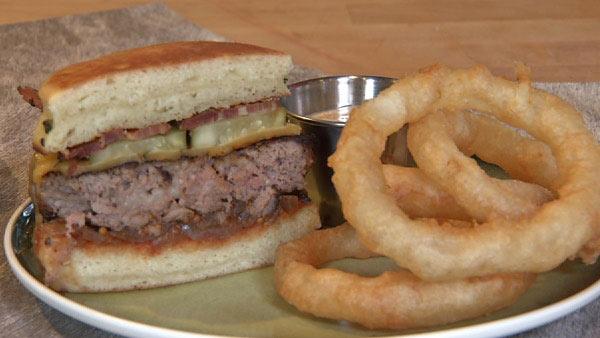 Servings: 4
Difficulty: Intermediate
Time:
Provided by: Chef Richard Blais
1 12-ounce piece boneless top round, coarsely chopped
1 12-ounce piece brisket, coarsely chopped
4 ounces beef fat, coarsely chopped -OR- 2 pounds ground beef with a 75%/25% meat to fat ratio
1/4 Cup Korean BBQ spice mix blend, or your favorite BBQ seasoning
2 tablespoons kosher salt
2 teaspoons freshly ground black pepper
5 teaspoons vegetable oil
2 tablespoons unsalted butter
5 garlic cloves, smashed
5 sprigs fresh thyme
4 thick slice cheddar cheese
8 slices of bacon, cooked, crisp
English muffins, homemade or store bought, split and toasted
1 beefsteak or heirloom tomato, thinly sliced
1/2 to 3/4 cup Candied Onions, (recipe below)
Directions
If using top round and brisket, in a large bowl, toss the meat, fat and spice mix together to combine.
Attach the medium-sized die to meat grinder and grind the beef and fat, then transfer to a medium bowl and mix gently until evenly combined.
If using ground beef form the meat into 4 patties, about 3/4 inch thick, and, with the handle of a wooden spoon, make an indentation in the middle of each patty.
(This will prevent the burgers from shrinking into meatball shapes while cooking).
Season the patties on both sides, using 1 1/2 teaspoons salt and 1/2 teaspoon pepper for each one.
Heat 1 tablespoon of the oil in a large cast iron skillet over high heat until smoking.
Place the patties in the pan, immediately reduce the heat to a medium-high, and cook for 4 minutes; do not press on the burgers so they retain their juices.
With a spatula, carefully flip the patties, and add the butter, garlic cloves, and thyme to the pan.
Once the butter has melted, tip the pan and baste each burger a few times, spooning the hot butter over them.
Continue to cook, basting often, until the burgers are well browned on the bottom and the meat is medium rare, 5-6 minutes.
Remove the burgers from the pa, top each with a slice of cheddar and let rest for 5 minutes.
To build the burgers, put 2 slices of tomato on each muffin bottom, followed by a burger.
Top each burger with 2-3 tablespoons candied onions, some bacon, and the top bun.
Serve immediately.