Recipes
Pumpkin Fudge with Salted Chocolate Ganache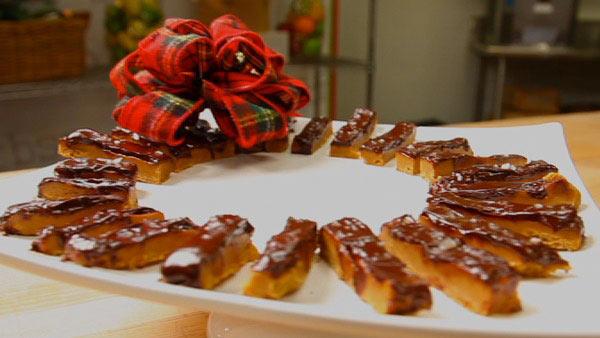 Servings: 50
Difficulty: Intermediate
Time:
Provided by: Jennifer Foley
2 cups granulated sugar
1 cup light brown sugar
3/4 cup butter, salted
1/2 cup heavy cream
1 cup canned pumpkin (not pie filling)
2/3 cup evaporated milk
2 tablespoons real maple syrup
1/2 teaspoon each cinnamon, ground ginger, nutmeg and allspice
9 ounces white chocolate chips, Toll House
3 cups mini marshmallows
Ganache (recipe)
Directions
1. For fudge, line a 9 X 13 inch pan with foil and spray with cooking spray.
2. Stir together the pumpkin fudge ingredients in a saucepan and heat until boiling.
3. Cook until the mixture comes to a softball stage (234 degrees F).
4. Stir in last three ingredients and pour mixture into pan to cool.
For Ganache:
8 ounces semi-sweet chocolate chips, Toll House
1/2 cup heavy cream
1 teaspoon vanilla extract (Madagascar if possible)
2 tablespoons Fleur de Sel flaky salt
1. Boil cream and add to chocolate in a bowl.
2. Let sit for three minutes and then mix.
3. Spread the ganache over pumpkin fudge.
4. Sprinkle with Fleur de Sel.
5. Cool, cut and serve.