Recipes
Pumpkin Chocolate Chip Cookies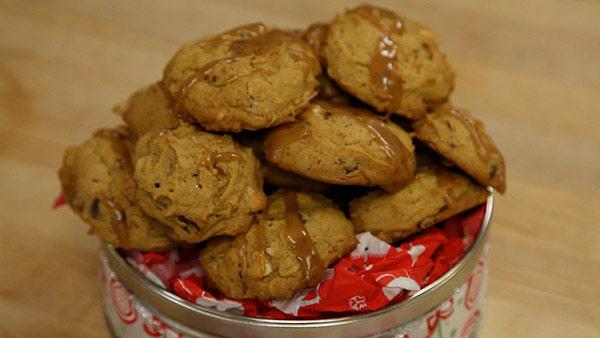 Difficulty: Easy
Time:
Provided by: Dana Prophet
1/4 cup sugar
1/4 cup light brown sugar
1/4 cup butter, unsalted, room temperature
1 egg
1/2 teaspoon vanilla
1/4 teaspoon salt
1/4 teaspoon baking soda
2 1/4 cups AP flour
1/3 cup pumpkin puree
1/4 teaspoon each cinnamon, nutmeg and ground cloves
1/2 cup pecans, toasted and chopped
1/4 cup milk chocolate morsels
1/4 cup white chocolate morsels
1/4 cup semi sweet morsels
Caramel sauce (recipe below)
Directions
1. To make the cookies, cream together the sugars and butter until smooth.
2. Add the vanilla, egg and pumpkin puree and blend until combined.
3. Sift together the dry ingredients and add to the mixture until incorporated.
4. Stir in the pecans and chocolate chips.
5. On a parchment lined baking sheet in a 350 degree oven bake the cookies for 10-12 minutes.
6. Remove to a rack and cool.
Caramel Sauce
1/2 cup butter, unsalted
1 cup heavy cream
1 cup sugar
1 tablespoon vanilla
1. In a medium saucepan over medium heat combine all the ingredients and stir until combined.
2. Continue to cook until mixture bubbles and thickens.
Assembly
1. Drizzle the caramel sauce over the cooled cookies.