Recipes
Orange-Olive Oil Shortbread Cookies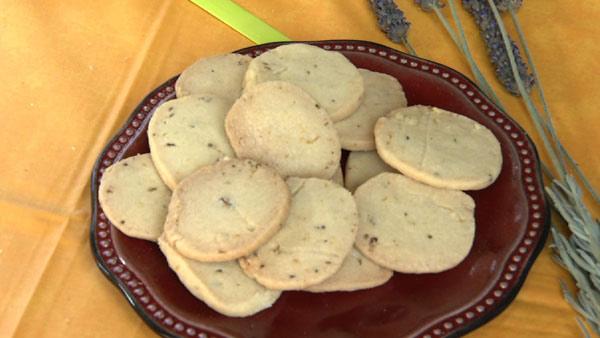 Servings: 24 cookies
Difficulty: Intermediate
Time:
Provided by: Ryan Scott
2 cups All Purpose flour
3/4 cup confectioners sugar
1/4 cup cornstarch
1 stick unsalted butter at room temperature
1/4 cup plus 2 tablespoons olive oil or orange olive oil
1/4 cup sugar
1 teaspoon pure vanilla extract
1/2 teaspoon orange oil
2 teaspoons dried lavender flowers
Zest of one orange
Directions
In a medium bowl, whisk together the flour, confectioners sugar, cornstarch and salt.
In a separate bowl, beat the butter until creamy. While continuing to mix, slowly pour olive oil into butter until fully incorporated.
Stir in sugar, vanilla extract, orange oil, lavender and zest into butter mixture.
Slowly add flour mixture to butter mixture, stirring together until just blended. Form dough into a ball and divide in half.
Form each half into a 6" log.
Wrap logs in plastic wrap and refrigerate for a least 2 hours or freeze for later use.
Preheat oven to 325 degrees. Cut each log into 1/3" thick rounds.
Place rounds half inch apart on baking sheet.
Bake, rotating pans halfway through, until golden brown, about 20 minutes. Transfer cookies to wire racks and cool.