Recipes
No-Bake Mini Pumpkin Cheesecakes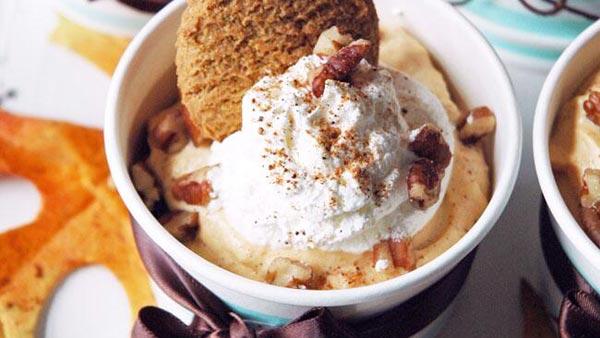 Servings: 8 to 10
Provided by: Jessica Kirkland, Creative Director of Pen N' Paperflowers Blog and Graphics Shop
1 Box Gingersnap cookies crushed (or graham crackers if you prefer)
I used 4 cookies per individual serving and crushed mine using a ziploc bag and rolling pin
8 oz. cream cheese -- softened
15oz. pumpkin puree
1/4 tsp. nutmeg
1 tsp. cinnamon
1/2 tsp. ginger
1/2 tsp. salt
14 oz. sweetened condensed milk
12 oz. frozen whipped topping (save some for the topping)
Directions
You will make the Pumpkin Cheesecake filling first and refrigerate overnight for quick assembly the next day. In the bowl of a stand mixer with the paddle attachment, beat the cream cheese until light and creamy. Add the pumpkin puree and spices, mix and beat until combined completely. Be sure to scrape the sides and bottom of the bowl as you go. Add the sweetened condensed milk to the cream cheese mixture and mix until well combined. Remove bowl from mixer stand and fold in the whipped topping. Cover bowl and refrigerator overnight to firm.
Prepare your mini serving cups or bowls. I used these adorable ice cream cups and added a pretty ribbon using double stick tape. Place crushed gingersnap cookies in each cup. Using a spoon add pumpkin cheesecake filling. Top off with whipped topping, spices, nuts and garnish with a gingersnap cookie.
Refrigerate until ready to serve.
Don't forget your cute wooden forks for gobbling these down!
GARNISH OPTIONS: Whipped topping. Nutmeg, cinnamon or pumpkin pie spice. Gingersnap cookie or cinnamon stick. Pecans or other preferred nuts.
For more information on Jessica's blog visit pnpflowersinc.com.