Recipes
Macaroni and Cheese Spring Rolls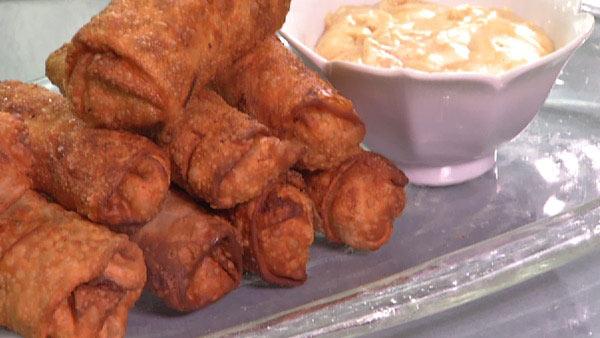 Servings: 25
Difficulty: Easy
Provided by: Chef Ryan Scott
Spring Roll wrappers 12 oz package/25 pieces 8 inch square
Wondra flour
Macaroni and Cheese
16 ounces pipette pasta or small elbow pasta, cooked al dente
4 tablespoons butter, unsalted
1/3 cup AP flour
2 &frac12
cups half and half or milk
4 ounces jack cheese, shredded
8 ounces extra sharp white cheddar cheese, shredded
2 teaspoons Dijon mustard (adjust to taste)
1 teaspoon kosher salt
1/2 teaspoon white pepper
1 egg, beaten with 1 tablespoon water
Directions
Melt the butter in a large sauce pan over medium heat. When the butter has melted and started to bubble, whisk in the flour, cook for 1 1/2 minutes whisking constantly.
Gradually whisk in the milk until no lumps remain. Reduce the heat to low-medium and cook milk mixture whisking constantly until it thickens and bubbles, 5-7 minutes.
Remove 1/3 of sauce and save (will be used to make dipping sauce). Remove sauce pan from heat and stir in the cheese by the handful, stirring each addition until blended. Stir in the mustard, salt and pepper.
Return the sauce to the low heat and mix in the pasta until well coated. Spread the mixture in a single layer on a baking sheet. Cool.
Defrost spring roll sheets. Place the wrapper on a flat work surface. Brush the edges with egg mixture.
With a small ice cream scoop, scoop about 2 tablespoons of the mac cheese onto the bottom third of the wrapper and in the middle of the wrapper.
Fold the two edges until they meet in the middle.
Roll tight and pull as you roll.
Place on a baking sheet and dust with Wondra flour to keep from sticking.
The spring roll can be frozen at this point.
Partially defrost before frying. 10-15 minutes.
Deep fry in three inches of oil (deep enough to cover the spring roll) at 350 degrees F for 4-5 minutes until the shell is golden brown.
Preheat oven to 350 degrees.
Place rack on a baking sheet and spray with non stick spray.
Bake on rack, turning once for 5-7 minutes.
For the dipping sauce mix the leftover white sauce with the Sriracha Pepper Sauce and serve.