Recipes
Healthy Baked Mexican Chicken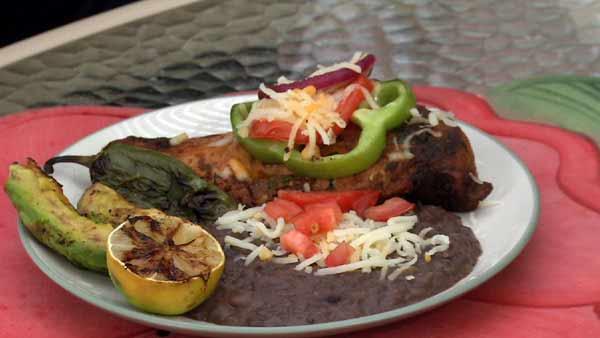 Servings: 4
Difficulty: Easy
Time:
4 - 6 ounce boneless, skinless chicken breast halves
4 green bell pepper rings, thinly sliced
4 red onion rings, thinly sliced
4 tomato slices
2 ounces low fat cheddar cheese, grated
3 tablespoons olive oil
1 teaspoon paprika
1 tablespoon chili powder
1 tablespoon cumin
2 teaspoons kosher salt
1/2 teaspoon freshly ground pepper
Dash of cayenne pepper to taste
2 tablespoons freshly chopped cilantro. Extra for garnish.
Directions
Whisk together marinade ingredients and put in a Ziploc bag.
Marinade chicken for about 4-6 hours.
Preheat oven to 400 degrees.
Remove chicken from marinade and place on a foil-lined baking sheet.
Arrange the green pepper, onion and tomato on each breast.
Bake until the chicken is cooked through, about 15- 20 minutes or to 165 degrees.
Remove the chicken from the oven and top with cheese and garnish with fresh cilantro and fresh lime slices.
Serve with grilled avocados and Smashed Black Beans.