Recipes
Gran Keer's Uber Gingerbread Sandwich Cookies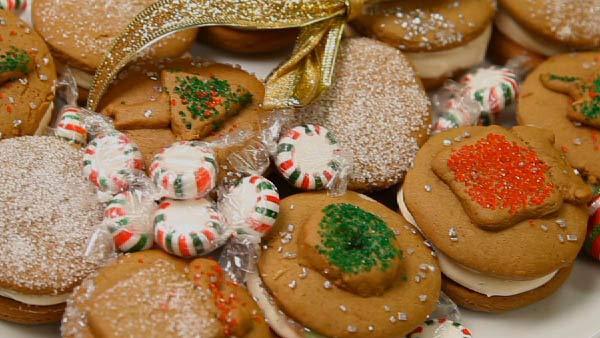 Servings: 24
Time:
Provided by: Dana Prophet
1/2 cup light brown sugar, packed
3/4 cup molasses
2 eggs
1/2 cup butter, softened + 6 ounces butter, softened, for filling
1 1/2 teaspoons baking soda
1/2 teaspoon salt
1/2 teaspoon of each allspice, cinnamon, ground cloves, ground ginger, nutmeg
4-5 cups AP flour
16 ounces cream cheese, softened
4 cups powdered sugar
1 tablespoon vanilla
1 tablespoon cinnamon
For cream cheese filling
Directions
1. For gingerbread men, in a large bowl beat sugar, molasses, eggs and butter at low speed.
2. Add the spices and baking soda to 3 cups of flour until mixed.
3. Scrape with a rubber spatula.
4. Increase the speed to medium and beat for 2 minutes.
5. With a wooden spoon stir in 4 to 5 cups of lour to make stiff dough.
6. Divide the dough in half and wrap in plastic wrap.
7. Use immediately or refrigerate for up to 2 days.
8. Roll dough out to 1/8 inch thickness.
9. Cut out the men and place on greased cookie sheet.
10. Preheat oven to 350 degrees F.
11. Bake for 12 minutes.
12. Bake until the edges are firm.
13. Loosen cookies and remove to a wire rack to cool.
14. For cream cheese filling, blend together all the ingredients.