Recipes
Garam Masala Chicken over Fettuccine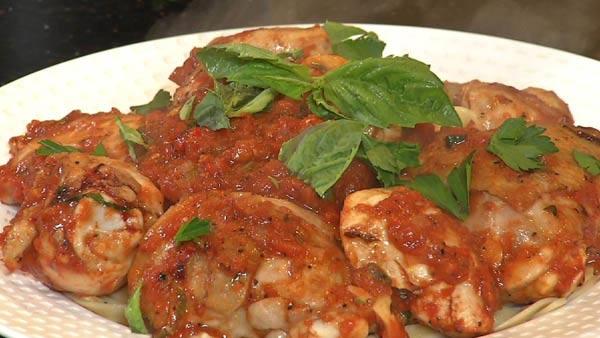 Servings: 4-6
Difficulty: Easy
Time:
Provided by: Chef Martin Yan
1 whole chicken (3 to 3 1/2 pounds)
Salt and pepper
1 tablespoon olive oil
1 onion, peeled and chopped
1 jalapeno, chopped
1 teaspoon garlic, minced
1 teaspoon ginger, minced
1 teaspoon garam masala
1/2 teaspoon smoked paprika
1/4 teaspoon ground coriander
1/4 teaspoon ground cumin
1/4 cup white wine
1 28 ounce can whole, peeled tomatoes, drained and chopped
8 ounces fettuccine
3 tablespoons basil, coarsely chopped
3 tablespoons parsley, coarsely chopped
Directions
Cut the chicken into 8 pieces (2 thighs, 2 drumsticks, 2 breasts and 2 wings).
Generously season pieces with salt and pepper and set aside.
Heat oil in a deep wide skillet over medium-high heat.
Cook the chicken pieces until browned all over. Set aside on a plate.
Add onion, jalapeno, garlic, and ginger to the skillet and cook, stirring often, until onions begin to brown, about 5 minutes.
Add garam masala, paprika, coriander, cumin, tomatoes, wine and ¼ cup water and stir to combine.
Add chicken pieces and bring to a simmer.
Reduce heat to medium low, cover and cook, turning chicken pieces occasionally, until chicken is cooked through, about 30 minutes.
Adjust seasoning with salt and pepper.
Bring a large pot of salted water to a boil.
Add fettuccine and cook according to package directions.
Drain and transfer to a large platter.
Arrange chicken pieces over pasta and spoon sauce over.
Garnish with basil and parsley.
(Copyrights, Yan Can Cook, Inc 2013)