Recipes
Falafel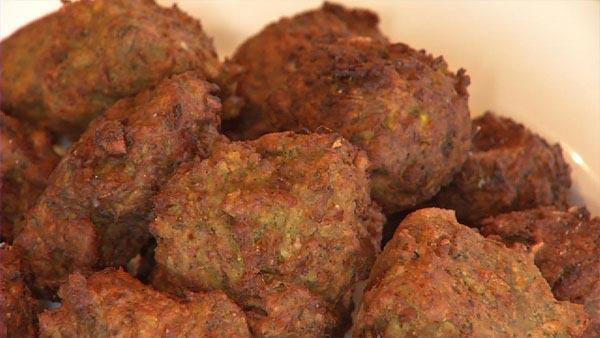 Servings: 4
Difficulty: Easy
Time:
Provided by: Chef Ryan Scott
15 ounces Chickpeas, drained and thoroughly dried
1 Tablespoon Ground Cumin
2 teaspoons Ground Coriander
1 1/2 teaspoons Salt
3/4 teaspoons Ground Black Pepper
1 Egg
4-6 Tablespoons Flour
1/4 cup Cilantro Leaves, finely chopped
2 Tablespoons Extra Virgin Olive Oil
1/2 cup White Onion, finely diced and sauteed
5 Garlic Cloves, minced and sauteed
Vegetable Oil for frying
Directions
Using a food processor, pulse together chickpeas, cumin, coriander, salt, pepper and egg to a coarse consistency. Add flour, cilantro and olive oil and pulse until mixture pulls from side of food processor.
Place mixture into a large bowl and add the sauteed onions and garlic and combine. Cool mixture completely. Once cool, roll falafel dough into 1-inch rounds. Be careful not to pack the falafel or roll too tightly. Falafel will be too dense if packed together. Use a floured spoon or floured mini ice cream scooper to create the rounds.
In a skillet, heat 1/2 inch of vegetable oil to 350 degrees. Cook falafel balls a few at a time, until golden brown, turning occasionally. Drain cooked falafel on paper towels.