Recipes
Espresso, Pistachio and Candied Ginger Cookies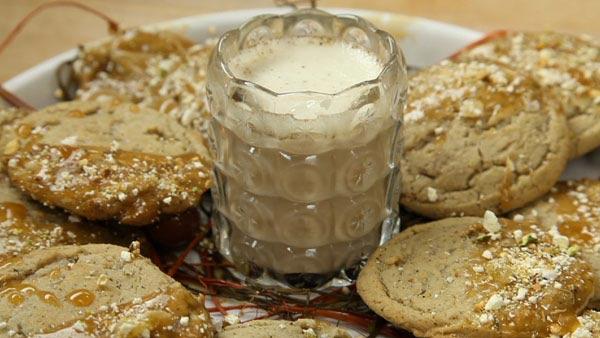 Servings: 24
Difficulty: Easy
Time:
Provided by: Dustin Anderson
3/4 cup sugar
3/4 cup light brown sugar
3/4 cup butter, unsalted, room temperature
1 egg
1/2 teaspoon vanilla
3/4 teaspoon baking soda
1/4 teaspoon salt
2 cups AP flour
1/4 cup pistachios, crushed + 1/4 cup pistachios for garnish
1/4 cup candied ginger, finely chopped
2 tablespoons caramel syrup
2 tablespoons espresso powder Glaze (recipe below) 1/2 cup caramel sauce
1/4 cup candied ginger
1/4 teaspoon sea salt
1/2 cup Cracker Jacks (or substitute caramel corn)
Directions
1. To make the cookies, cream together the sugars and butter until smooth.
2. Add the vanilla and egg and blend until combined.
3. Add the ginger, pistachios and caramel sauce.
3. Sift the dry ingredients together and add to the mixture.
4. Use a 1/2 ounce scoop to make the cookies.
5. In a preheated 350 degree oven bake on a parchment lined baking sheet for 10-12 minutes or until golden brown.
Glaze
1/2 cup caramel sauce
1/4 cup candied ginger
1/4 teaspoon sea salt
1. Warm the caramel in a small saucepan over medium heat. Add the ginger and cook until the caramel thickens and the ginger releases some flavor.
2. Add the sea salt and strain.
Garnish 1. On a parchment lined baking sheet in a 350 degree oven bake the pistachios and Cracker Jacks for 8 to 10 minutes. This will release the oil from the nuts and dry out the popcorn.
2. Pulse the mixture in a food processor into a fine dust.
Assembly
1. After the cookies are cool, dip half of the cookie in the caramel and sprinkle on the garnish.
2. Finish with a touch of sea salt.