Recipes
Cornflake Crusted Fried Chicken Sandwich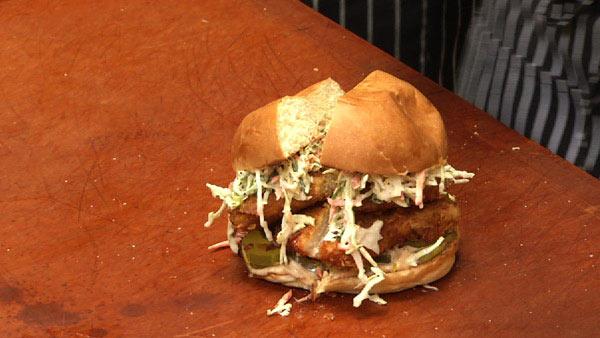 Servings: 1
Difficulty: Easy
Time:
Provided by: Ryan Scott
Chicken
Flour
Eggs
Cornflakes
Panko Breadcrumbs
1/2 a Cabbage, cored and shredded
1 Carrot, shredded
4 Chive stalks, chopped
Poppy Seed Dressing (recipe below)
Old Bay Aioli (recipe below)
Directions
Take a chicken breast and trim off any excess fat. Butterfly breast and remove the tip. Cut butterflied breast into 3 even pieces.
Set up a three pan "breading" station, to include:
1st pan: Flour, mixed with a hint of Paprika
2nd pan: Egg Wash (cracked Eggs, whisked)
3rd pan: Cornflakes, mixed with a bit of Panko Breadcrumbs
Coat the chicken in the same order (press hard into cornflakes to ensure even coating).
Bake the chicken on sheet pan in a 350 degree oven for 20 minutes or until cooked, depending on the size of the breast. Let cool. Before sandwich assembly, quick fry each breast in 400 degree oil until golden brown and crispy.
For the cabbage slaw, add shredded vegetables into a large bowl and toss. Fold in poppy seed dressing to combine.
Poppy Seed Dressing:
1/2 cup Mayonnaise
3 Tablespoons Rice Wine Vinegar
1 Tablespoon Black Poppy Seeds
Add all ingredients into a bowl and whisk until combined.
Old Bay Aioli:
1/4 cup Mayonnaise
2 Tablespoons, Old Bay Seasoning
1 teaspoon Lemon Juice
Combine all ingredients into a bowl and whisk to combine.
To assemble sandwich: Slice a Brioche bun in half and toast. Smear 1 large spoonful Old Bay Aioli onto each slice. Place sliced pickles on top of coated bottom bun. Place a healthy amount of cabbage slaw on the top bun followed by fried chicken breast. Season with salt to taste. Close sandwich and enjoy.
Ryan's Trick: When putting dressing on a salad, dress the side of the bowl to make sure all the vegetables get covered when tossing.