Recipes
Chocolate Hazelnut Mousse Cake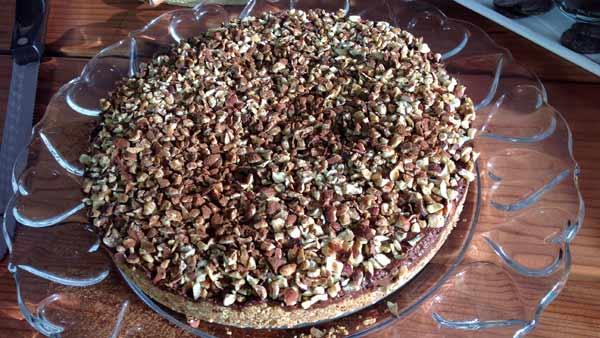 Servings: 8-10
Difficulty: Easy
Time:
2 1/2 cups graham cracker crumbs
5 tablespoons unsalted butter, unsalted
3 tablespoons toasted hazelnuts, chopped (for crust)
1 tablespoon Nutella
1 cup dark chocolate or semisweet chocolate chips/pieces
3/4 cup water
3 tablespoons sugar
1 tablespoon Frangelico
4 large egg whites, room temperature
1 cup toasted hazelnuts, chopped (for topping) Cocoa powder
Directions
To make the crust, place the graham cracker crumbs, butter and Nutella into the bowl of a food processor. Pulse until the mixture starts to clump together.
Add the hazelnuts and continue to pulse until the texture is damp and sandy.
Tip the crumb mixture into a 9" spring form pan.
Cover with parchment paper or spray your hands with a light coating of cooking spray and press the mixture evenly into the base.
Chill while you make the filling.
To make the filling, place the chocolate in a blender.
Bring the water, Frangelico and sugar in a saucepan to a simmer.
Stir to dissolve the sugar.
Pour over the chocolate.
Cover tightly; blend 5 seconds.
Add the egg whites.
Cover tightly; blend on high for 1 minute.
Pour into the spring form pan.
Chill until firm, at least 4 hours.
Place on serving plate and remove from the pan.
Cover the entire cake with the toasted hazelnuts and dust with cocoa powder.
Keep refrigerated until ready to serve. It is also good frozen!