Recipes
Chicken Tinga Quesadillas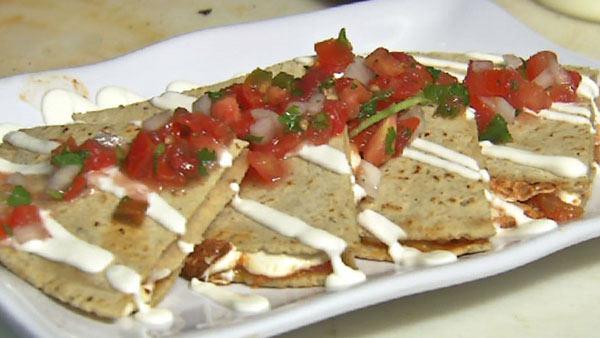 Servings: 6
Difficulty: Easy
Time:
Provided by: Chef Ryan Scott
1 pound boneless skinless chicken breasts
1 tablespoon whole peppercorns
1 teaspoon kosher salt for chicken, plus 2 teaspoons kosher salt for tinga
3 cloves garlic for chicken, plus 2 cloves garlic, minced for tinga
1/2 medium onion, peeled
1 bay leaf
4 ounces raw pork chorizo
1 small onion, finely chopped
1 16 ounce can tomatoes or fresh tomatoes (peeled and seeded)
3 tablespoons pureed chipotle
1 teaspoon freshly ground black pepper
1 sprig each of fresh marjoram, thyme and oregano (ok to substitute dried) 12 corn tortillas as fresh as you can find
12 ounces of Oaxaca cheese
Crema Fresca for drizzling
Pico de gallo
Directions
Cook the chicken in 6-8 cups of water seasoned with the peppercorns, salt, garlic, onion and bay leaf on a low boil over medium heat for 15 to 20 minutes. Remove the chicken from the broth and save the liquid. Shred the chicken while it's warm and set aside.
For tinga, saute the chorizo with the onions over medium heat until fully cooked and browned, 5-7 minutes. Add the garlic and saute for one minute. Add the tomatoes, chipotle, salt, pepper, oregano, thyme and marjoram. Add the chicken and warm through until the chicken is incorporated.
Add up to 1 cup of the of the chicken broth and continue to cook until desired thickness. Cook over a low heat until heated through.
Heat a flat griddle or heavy pan to a medium high heat. Assemble the quesadillas, cheese, chicken tinga and more cheese.
Grill until browned on one side and then turn and brown other side until the cheese is melted.
Cut in quarters and drizzle with crema fresca and top with pico de gallo.
Serve immediately.